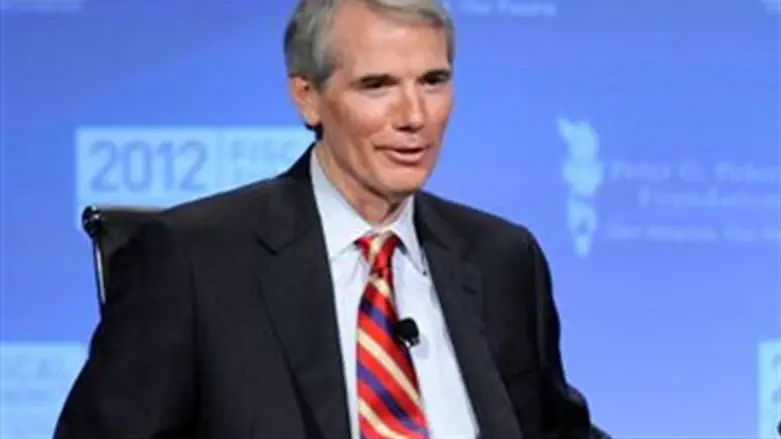 Republican VP contender Sen. Rob Portman
Reuters
Ohio Sen. Rob Portman, a leading contender for the Republican nomination for vice president, will meet with Prime Minister Binyamin Netanyahu on Thursday, less than two days after Mitt Romney clinched the nomination for president.
Romney won the GOP primary in Texas Tuesday night, giving him a majority of delegates' votes in the Republican party's nominating convention this summer. Sen. Portman told Bloomberg two weeks ago he is happy being in the Senate and did not directly answer a question on whether he would run for vice president.
Sen. Portman will travel to Israel with other legislators from both the Republican and Democratic parties, but his meeting with Prime Minister Netanyahu will be one-on-one, ABC News reported.
He is a member of the Senate Armed Services Committee and is a ranking member of the Subcommittee on Emerging Threats and Capabilities.
The Ohio senator previously has stated he supports "finding a lasting peace in the Middle East [but]  not…at the full expense of Israel."
Following President Barack Obama's call last year for Palestinian Authority-Israeli negotiations based on the 1949 temporary Armistice Lines, which existed until the Six-Day War in 1967, Sen. Portman stated, "The recent developments of reconciliation between Hamas and Fatah require ever greater support for our ally, Israel.
"The administration must take immediate steps to ensure taxpayer dollars do not make their way to Hamas, an acknowledged terrorist organization….
"The President has decided to demand the greatest concessions from Israel just as those committed to the destruction of the Jewish state foment their position. He asserts that his commitment to Israel's security is unshakeable while at the same time conceding significant Israeli territory that is vital to the security of its people. 
 "I was glad to see the President engage on the critical issue of the peace process in the Middle East. Unfortunately, his statements have taken this conversation in a troubling direction."