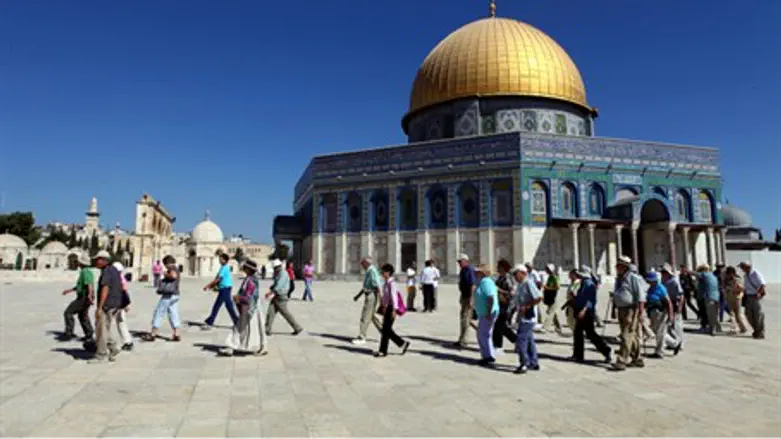 Visiting the Temple Mount
Israel news photo: Flash 90
Police have reportedly issued new draconian instructions for non-Muslims who ascend to the Temple Mount, Judaism's holiest site, which has been under Muslim occupation for centuries. According to a report in the daily newspaper Ma'ariv, non-Muslims are now not even permitted to close their eyes while on the Mount, or do anything that could be interpreted as praying.
While Jews have not been allowed to pray on the Mount since the Muslim riots of the year 2000, and their entry has been restricted to specific hours and days, the new instructions take the restrictions to an even greater extreme.
A delegation of 30 public figures and rabbis headed by Rav Dov Lior and MK Uri Ariel arrived at the Temple Mount last week and encountered the new restrictions. When they reached the entrance area at the Mughrabim Gate, a police officer showed up and presented the instructions.
"The officer said that closing eyes and rocking the body back and forth constitute prayer, and therefore anyone who does any of these things will be immediately removed from the Mount," MK Ariel recounted. Taking a note out of one's pocket was also listed as a no-no.
According to the report, the Jerusalem District Police responded to the story by saying only, "This was a statement by an officer who explained to the visitors to the Temple Mount about the characteristics of prayer that are forbidden during the visit there."