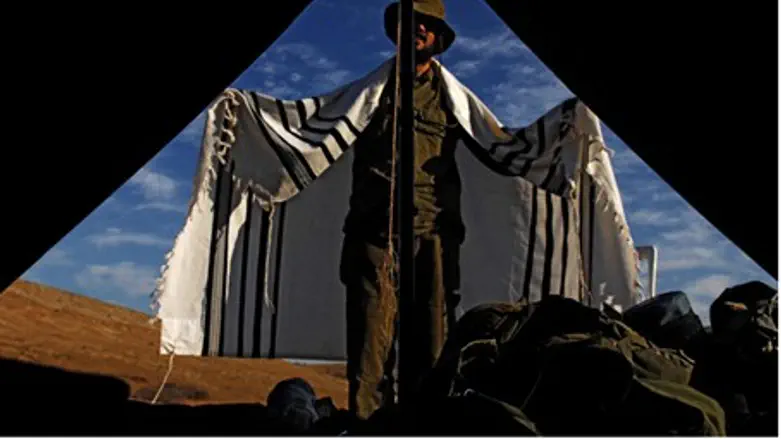 Nahal Haredi soldier (file)
Israel news photo: Flash 90
Dozens of reservists who served in the Nahal Haredi (Netzach Yehuda) battalion say they have been ordered to carry out reserve duty in other battalions, despite IDF promises that they would only serve in the haredi battalion.
The haredi battalion observes strict rules of modesty and does not place male soldiers in proximity to female soldiers. It also maintains high standards for kashrut of food, in keeping with the beliefs of the haredi soldiers.
Eliyahu Lax, Chairman of the Organization for the Religious Soldiers, said he has looked into the problem and discovered that there are simply too many reservists for one reserve battalion to hold. He thinks the IDF's reasons for not establishing a second haredi battalion are less than kosher.
In a letter to the Head of Personnel Branch, Maj. Gen. Orna Barbivai, he accused the IDF of "behaving as a populist body that fears having too many haredim inside it."
If a second battalion is set up, he explained in the letter, "the army will have to establish a Torah-based haredi brigade, which for the army is a line that must not be crossed."
He added: "Seeing as the media are having fun lately, running a campaign for enlisting all sectors to the IDF, the basic question keeps floating back up: Is the IDF really ready to take in the haredim? Our answer is negative. The IDF prefers to dabble in politics than to deal with the true vital needs."
The IDF said in response that the Netzach Yisrael reserve battalion was established in 2009, and is made up of former Netzach Yehuda soldiers. "Due to the [high] quality of the combat soldiers, the battalion currently stands at 150% of capacity in the combat units," the army explained. However, it denied sending haredi soldiers to non-haredi units. The IDF said that it was looking into the possibility of establishing a second hareidi reservist battalion but that as of yet, no decision has been reached.