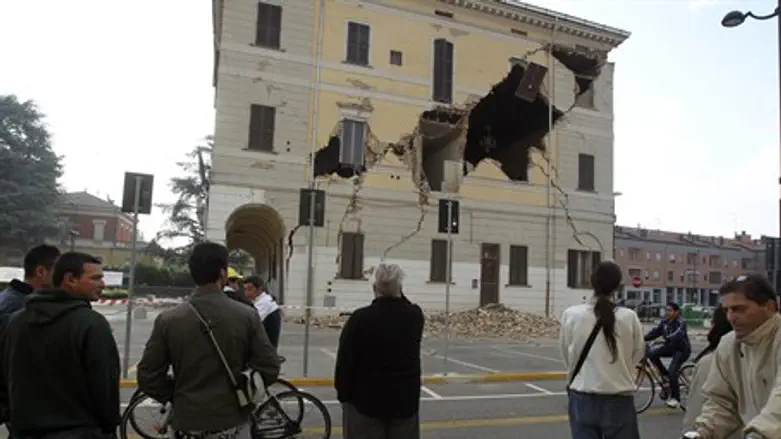 Damaged Town Hall building on Sant' Agostino
Reuters
At least three were killed after a 5.9-magnitude earthquake struck across a large swath of northern Italy Sunday at 4:04 a.m.
The initial temblor was followed by a strong 4.9-magnitude aftershock about an hour later, and had been preceded by a 4.1-magnitude quake in the same area.
The quake toppled an undetermined number of buildings, including some ancient bell towers, and severely damaged the Town Hall building on Sant' Agostino near Ferrara. It was felt as far away as Tuscany. It is not known how many people were injured in the disaster.
Two people died when a ceramics factory collapsed. A third was killed in Ponte Rodoni do Bondeno, according to emergency services workers quoted by the Italian news agency ANSA.
The epicenter was located between Modena and Mantova, 22 miles north-northwest of Bologna, about 10 kilometers (6 miles) below the surface, according to the U.S. Geological Survey (USGS).
A little over a week ago, a 5.3-magnitude earthquake rocked northern and central Israel. Israel Police in the Northern, Central and Tel Aviv Districts told Channel 10 News they received hundreds of phone calls from citizens who felt the earthquake. Local residents reported feeling objects and buildings move for about 15 to 20 seconds. There were no reports of injuries or damages.
The U.S. Geological Survey said the epicenter of the quake was located in Cyprus.