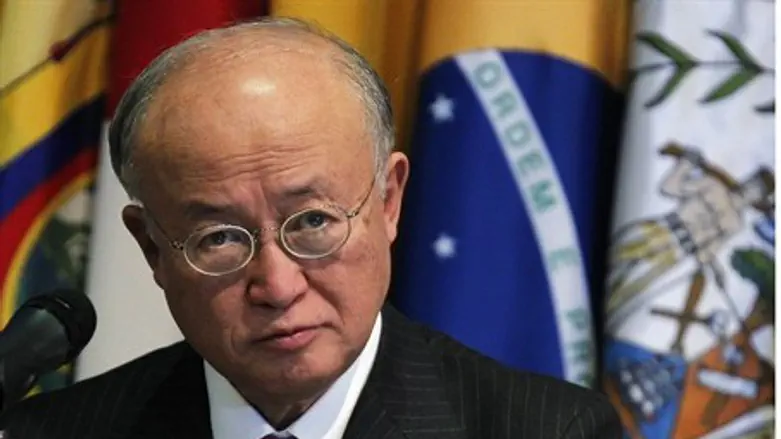 IAEA Director General Yukiya Amano
Reuters
The chief of the UN nuclear watchdog, Yukiya Amano, will visit Iran on Monday and meet Tehran's chief nuclear negotiator Saeed Jalili, the International Atomic Energy Agency announced on Friday.
Amano's visit comes ahead of a meeting in Baghdad, scheduled for Wednesday, between Tehran and a group of world powers, to discuss concerns over Iran's suspected nuclear weapons program.
Iran and IAEA officials met in Vienna this week for their first talks in three months, which were described by the agency as "a good exchange of views."
During his Tehran visit, Amano will "discuss issues of mutual interest with high Iranian officials," the IAEA said in a statement quoted by AFP.
The statement added that aside from Jalili, there will be meetings with "senior representatives of the Iranian government," but no further details were provided.
The IAEA chief is due to arrive in Tehran on Sunday, AFP reported, and will be joined by the agency's chief inspector Herman Nackaerts and its number two Rafael Mariano Grossi.
A meeting between Iran and the IAEA, including Nackaerts, that was planned for Monday in Vienna was cancelled, the report said.
The IAEA is asking Iran to address claims made in an extensive agency report in November that said that at least until 2003, and possibly since then, it carried out "activities relevant to the development of a nuclear explosive device."
After two visits to Iran in January and February -- branded a "failure" by Washington -- the UN agency broke off talks, saying Iran was refusing to address suspicions of weapons research outlined in the November report and to allow it access to the Parchin military site.
Earlier this week The Associated Presspublished a graphic rendering of a pressure structure that may prove Iran is developing a nuclear weapon. The drawing is believed to have come from inside the Parchin military site near Tehran. It shows a cylindrical explosives containment chamber of the type needed for nuclear arms-related tests.
A confidential UN report exposed later in the week indicated that Iran has continued to enrich uranium and develop its nuclear program, but the sanctions that have been imposed on the Islamic Republic have slowed down its quest to achieve nuclear weapons.
On Friday, Prime Minister Benjamin Netanyahu said he is skeptical that Iran will agree to halt its nuclear program.
"I see no evidence whatsoever that Iran is ready to end its nuclear program," he said in Prague, calling it "the paramount issue of our time."
Netanyahu did not present any ultimatums, but Israeli officials have said time is running out to avoid military action.
(Arutz Sheva's North American Desk is keeping you updated until the start of Shabbat in New York. The time posted automatically on all Arutz Sheva articles, however, is Israeli time.)