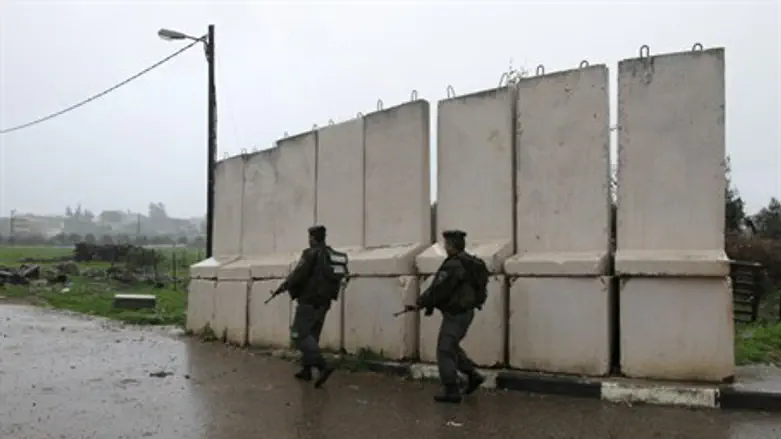 Israel-Lebanon border
Flash 90
A new project currently being developed will have robots replacing IDF soldiers on patrols along Israel's borders.
The project was initiated by the families of Benny Avraham, Adi Avitan and Omar Sawaid, who were kidnapped by Hizbullah terrorists in October of 2000, as they were patrolling the security fence along Israel's border with Lebanon. The IDF determined the soldiers were killed either during the attack or immediately afterwards.
On January 29, 2004, the bodies of the three soldiers were returned in exchange for 435 terrorist prisoners. Hizbullah also returned abducted Israeli citizen Elchanan Tenenbaum as part of the deal.
Among the terrorists Israel released was Mustafa Dirani, a Hizbullah terrorist who held missing IAF navigatorRon Arad for several years and was believed to have information on what happened to him.
Haim Avraham, father of Benny Avraham, told Arutz Sheva on Wednesday that the revolutionary project is being developed in collaboration with the IDF's Engineering Corps and the College of Management in the city of Rishon LeZion.
"The project aims to develop robots to fill the roles of soldiers patrolling the border and so far the college has developed six robots," Avraham said, adding that he hopes other institutions will join the project.
"The institute which is creating the robots will not be able to evolve unless additional factors, other than the three families, support it as well," he said. "It requires many resources. We are making efforts to get more resources and have so far distributed 160 scholarships to students participating in the project. We also received a large donation from an anonymous donor for the project."
Avraham said that he believes the robots will be able to provide a partial solution to kidnappings of soldiers, noting, "It's not a solution to all the kidnappings, just for border patrols. Terrorist organizations take advantage of the proximity to the border and study our soldiers' routines. Our robots will move along the border and, based on a decision of the commander stationed at the control point, they will also be able to shoot."
In the interview, Avraham also spoke of Israel's decision to transfer 100 bodies of Palestinian Authority Arab terrorists currently buried in Israel, as part of the deal reached with PA prisoners to end their mass hunger strike. The Prime Minister's Office later said the deal was a goodwill gesture to PA Chairman Abbas.
Avraham said the gesture was "a scandal", adding, "All these gestures only encourage them to continue to kill us. They release bodies of terrorists, whose hands are stained with blood. They do not sit with us for negotiations, they refuse to accept invitations from us, so what's the point of these gestures? Our families waited three and a half years without receiving information about the boys, in the end we received dead bodies in exchange for living terrorists, and here we time and time again succumb to the whims of the Arabs."