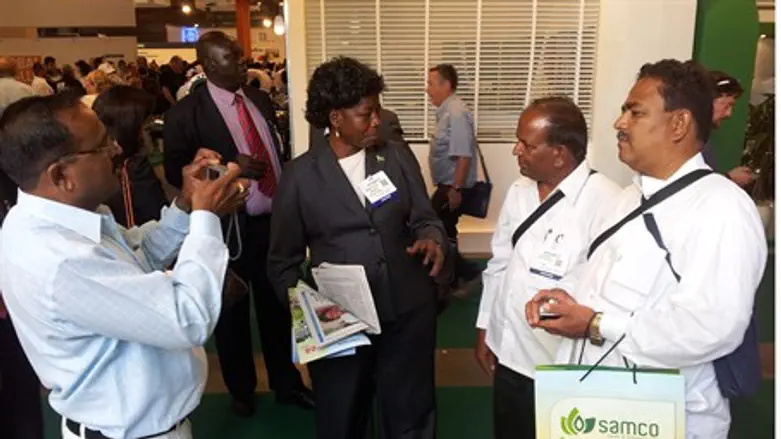 South Sudan's Agriculture Minister at Agritec
Yoni Kempinski
Arutz Sheva visited the Agritech 2012 International Agricultural Exhibition and Conference, which is taking place in Tel Aviv this week.
During the conference, Deputy Foreign Minister Danny Ayalon met with South Sudan's Minister of Agriculture, Betty Ogwaro, and together they decided to promote the establishment of an agricultural village in South Sudan which will be constructed based on Israeli methods and technologies and will serve as a model for other villages in the future.
Soon after South Sudan became an independent nation, Israel and the new country decided to establish diplomatic relations at the ambassadorial level.
Arutz Sheva spoke with Ogwaro about the cooperation between Israel and South Sudan.
"Cooperation is very important between government and government, government and investors, and investors and investors," said Ogwaro, adding, "What I see here is a lot of cooperation between investors and government."
Ogwaro said that she "would like Israel to translate its skills in small-scale agriculture to [South] Sudan, because we are still small-scale. I see [Israelis] improving agriculture through irrigation. This is very important because irrigation is more efficient than rainfed agriculture."
She addressed the phenomenon of the illegal infiltrators from Africa who enter Israel through the non-hermetically sealed border with Egypt. The infiltrators have become an issue of controversy in Israel, with several MKs calling to deport all the infiltrators who, in some cases, have been involved in crime and other violent activities.
"What I would like to tell the public is that there's a difference between Sudan and South Sudan," said Ogwaro. "In the past we were one country but now we are South Sudan. When the Israeli people talk about the Sudan, they're talking about the total Sudan. There are not many South Sudanese in Israel."
Ogwaro added that she believes that "for humanitarian purposes, I feel the Israeli government should support all the Sudanese who are here, whether from the north or from the south, because they came here for a purpose. They came here because they're afraid for their lives and they came here to seek better opportunities."
She noted that "in South Sudan the situation is getting better, but there is still a reason for us to ask the Israeli government to support them staying here. At the moment, South Sudan is only nine months old, so there are so many things that need to be put in place."