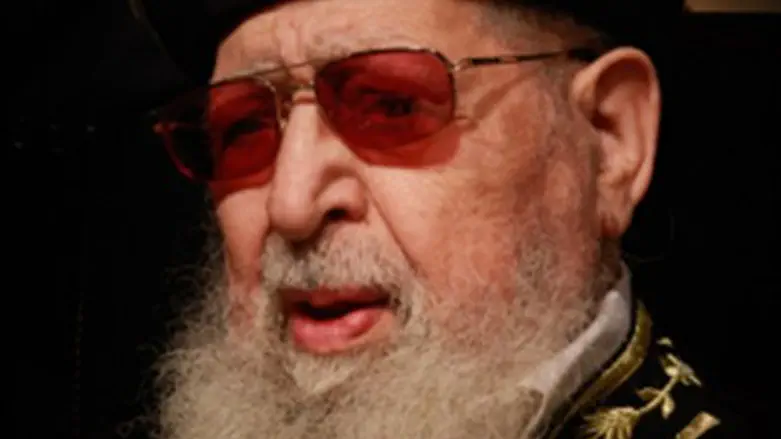 Rabbi Ovadia Yosef
Israel news photo: Flash 90
Shas chairman Eli Yishai announced Monday that the party will not send a representative to the Plesner committee that has been appointed to work out an arrangement for enlisting more hareidim and Arabs to the military and national service. The law regulating the issue until now was ruled illegal by the High Court earlier this year.
"The studiers of Torah will not negotiate over quotas, or over their basic right to study Torah," he said. "The contribution of Torah students to the Jewish people and to the state of Israel is known and clear to all believing Jews."
Shas said that it would soon work out its own solution for the problem of sharing the burden of service, and present it to the public.
MK Rav Chaim Amsallem, who broke away from Shas to establish the Am Shalem movement, attacked Shas's decision.
"Shas proved again today that it is a satellite party of radical Ashkenazim," he said. "It uses its political power, which it receives from Zionist voters who serve [in the military] and work for a living, to serve a fanatical and separatist ideology."
"I call upon the heads of the parties hammering out the new law," he added, "to listen to the voice of the silent majority in the hareidi public, which is interested in fitting in with society and carrying the burden, and not to extremist hareidi politicians and representatives."
Meanwhile, Labor faction chairman MK Yitzchak Herzog wrote a letter Monday morning to the Knesset's Legal Adviser Eyal Yinon, and asked him to study the ethical and legal aspects of the appointment of MK Yochanan Plesner to head the committee charged with presenting an alternative to the Tal Law. Herzog asked whether the appointment does not violate the Knesset's regulations and contradict the principle of separation of branches of government.
Herzog explained that appointing a Knesset Member to a position that serves the government is forbidden because of the possible contradiction it poses to his duty of supervising the government as a parliamentarian.