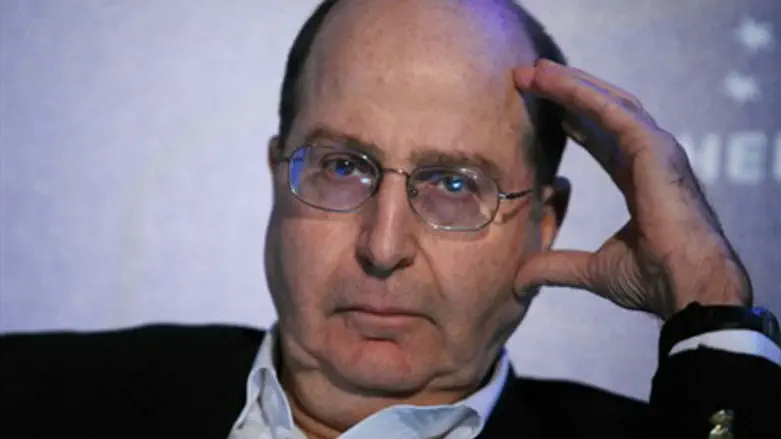 Moshe "Bogie" Yaalon
Flash 90
Strategic Affairs Minister Moshe Ya'alon criticized on Saturday the inclusion of the Kadima party in the coalition, saying the move "hurt public trust."
"When you look at the latest political move, you definitely need to examine its material aspects and its negative consequences," Ya'alon said. "Developments of this kind definitely do not encourage some people to be involved politically and not even come to vote. Because people zigzag, and a commitment is not a commitment and a declaration is not a declaration."
Kadima led by MK Shaul Mofaz joined the coalition on Monday night in a surprise move, just hours after the Knesset approved the first reading of a bill to dissolve and hold elections.
As part of the new coalition agreement, Mofaz became Deputy Prime Minister and Minister Without Portfolio. The move has been criticized by many, especially because Mofaz had said two months ago, "We are the opposition. I will oppose Netanyahu." He also said last year that Barak and Netanyahu are a "couple that is dangerous to Israel" and has also publicly gone on record and called Netanyahu a liar.
Earlier on Saturday, Kadima MK Orit Zuaretz publicly criticized Mofaz's decision to have the party join the coalition.
"I came back from an international conference in Boston, where I presented Israel's struggle against trafficking in women, and meanwhile it seems as though human trafficking is taking place here right in front of the public," Zuaretz wrote on her Facebook page, adding, "28 Knesset members and 90 thousand members of Kadima were sold to Netanyahu in an auction."
On Friday, Kadima MK Nino Abesadse sharply criticized Mofaz for "joining a Bolshevik coalition."
"I was in opposition and I followed the rules. I respected them," Abesadse said, adding, "But here, this morning, after what happened this week, I feel I am not obliged to respect the rules of the game anymore."
Journalist-turned-politician Yair Lapid, head of the Yesh Atid party, also criticized the unity government, calling to bring it down.
"I agree that this bad government should be brought down," Lapid said in a public forum, adding, "Shaul Mofaz was appointed minister without portfolio this week, is this not corruption?"
Lapid also said, "Now they are going to expand the government by at least three ministers; the entire Knesset will be made up of ministers. A minister without portfolio is like a professional who comes to your home and says, 'Let's do the job without an invoice.' At that moment he thinks only of himself, just like a minister without portfolio. He thinks only about his own personal gain."
The formation of the unity government leaves Lapid and his party out of the Knesset for at least a year and half, when elections will next be held.