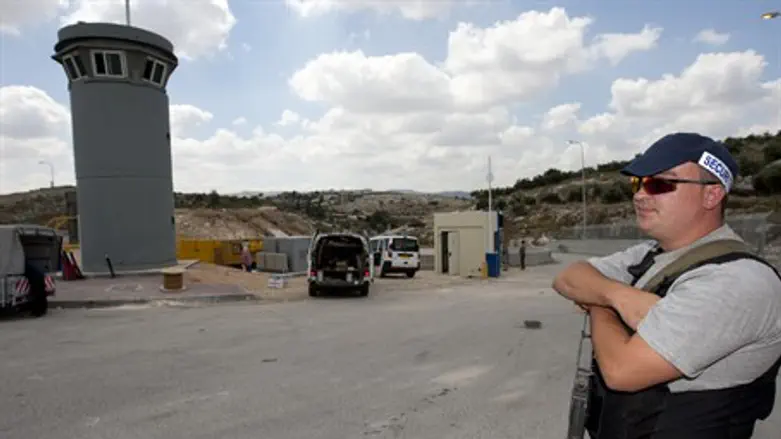 Guard on Binyamin-region road (illiustrative)
Flash 90
In light of a wave of attacks and carjackings on Judea and Samaria highways, civilians in the area have begun taking over from the IDF. A newly established group of Binyamin-area Israelis aims to protect the roads where the military has failed, Tatzpit reports.

The group conducts routine patrols and has its own vehicles on the road to show a stronger security presence.

The volunteer guards expressed hope that they would not permanently replace the IDF, but rather, would serve as a temporary back-up while the army prepares to handle the threat itself.

"The army is obligated to protect the junctions, and the brigade commander promised to do so," said Motti Yogev, deputy head of the Binyamin Regional Council. "That is the army's job, and I hope it will take full responsibility for it."

But in the meantime, Binyamin-area Jews cannot afford to wait, residents said. "We aren't going to gamble our lives or our families' lives," said Viki Ezra of Dolev. "As long as the Binyamin region commander isn't prepared to handle this mission, we will do it voluntarily."

He suggested that similar groups be set up elsewhere in Judea and Samaria.

Last week, a Palestinian Authority gang used multiple cars to trap Israeli drivers in the Binyamin area by surrounding them, then slowing down while honking, flashing lights, and intermittently braking. The Israeli drivers managed to break free, and following the incident the IDF increased nighttime security on local highways.

Last Tuesday, an Israeli woman from Nerya barely escaped a carjacking, managing to get away by ramming her attackers' cars as a PA man attempted to break into her vehicle.