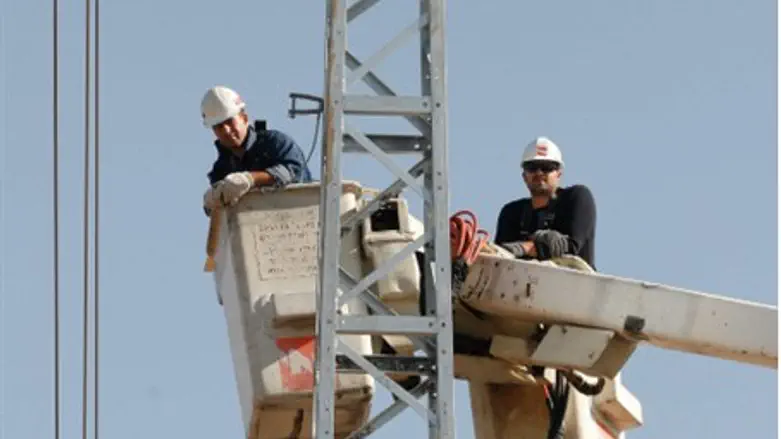 Electricity company workers
Israel news photo: Flash 90
Israel is considering ways to deal with an impending power shortage this summer after Egypt reneged on its contract  to supply natural gas to the Jewish State.
The state-owned Egyptian Natural Gas Holding Company (EGAS) informed Israel's East Mediterranean Gas Company (EMG) last month that it was unilaterally canceling the agreement, included in a financial appendix to the peace treaty with Egypt signed in 1979.
The original appendix stated that Egypt was to supply Israel with oil, but several years ago the language was changed to replace the oil with the amount of gas required by the state for a specified period, in exchange for payment.
Energy conservation is likely to become to centerpiece of a new effort to raise awareness about the crisis, according to Energy and Water Minister Uzi Landau.
"We intend to launch a public relations campaign to educate the public on the importance of conservation of energy," Landau said. "In this way and through other means, we hope to safely get through the summer," he added.
Meanwhile, the government is exploring alternative means for supplying electricity. Nevertheless, the ministry has warned there may be occasional power outages this summer.
The Israel Electric Company last month asked the ministry to declare a state of emergency for electricity, which would allow the company to announce occasional stoppages in order to ensure supply.
Because terrorists continued to disrupt supply by sabotaging the pipeline at least 14 times over the past year, Israel has already learned to compensate for the loss. According to a statement last month by Citi Capital Markets, the energy crisis is not likely to damage Israel in the long run.
"Although the Israeli Ministry of Finance estimated that Egyptian gas suspensions have cost Israel NIS 15bn (1.7% GDP), we don't think that the damage to Israel is particularly visible," the company said. "And since Israel's offshore gas field Tamar is due to begin production in April 2013, any further domestic shortfalls are likely to be relatively brief."