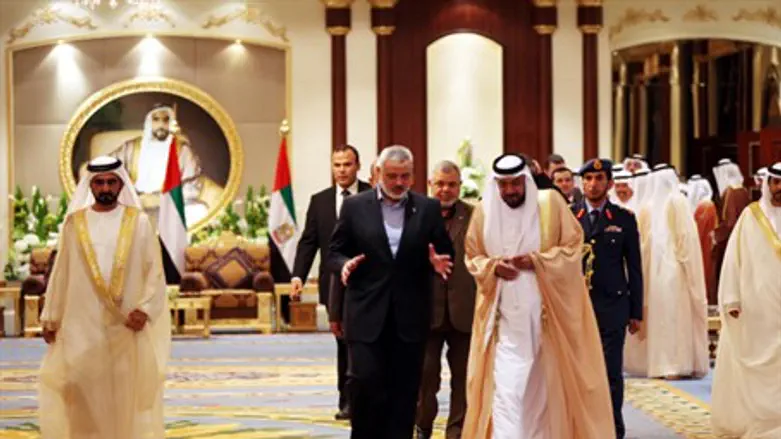 Hamas leader Khaled Mashaal in Dubai
Flash 90
A French-Israeli filmmaker is producing a spy thriller loosely based on the daring 2010 assassination of a Hamas terrorist on Dubai starring Israeli supermodel Bar Rafaeli.
The assassination of Mahmoud al-Mabhouh was widely blamed on the Mossad and led to speculation that Israel had reactivated the legendary Caesarea assassination unit purported to have pursued the perpetrators of the Munich massacre.
Israeli officials have long followed an iron-clad policy of not discussing intelligence matters and refused to comment on the assassination.
Dubai police accused the Mossad of carrying out the actual hit in a five-star hotel, and released surveillance camera footage of the assassination team tracking al-Mabhouh.
Several nations, including Britain, Ireland and Australia, expelled Israeli diplomats in protest over the use of their nations' passports. The diplomatic blowback, however, was short-lived and easily contained.
More than half of the names turned out to belong to real-life dual nationals living in Israel, but none of them were among the assassins.
The movie, titled "Kidon" (Bayonet) for the Mossad's supposed black operations unit, adds a plot twist in which a gang of criminals murder al-Mabhouh in an attempt to frame Israel's Mossad spy agency.
"The movie is not a documentary and it's not a history movie. It's my take on the al-Mabhouh story," director Emmanuel Nakash said.
Refaeli plays Einav Schwartz, an Israeli femme fatale whose role is to lure al-Mabhouh into the assassins' trap with her feminine wiles.
The characters are all fictional, except for al-Mabhouh, a Hamas leader responsible for smuggling arms to Gaza who was aslo wanted for kidnapping and murdering two Israeli soldiers in the late 1980s.
Model-turned-actress Rafaeli said "Kidon" gave her a fictional brush with her dream job: working for the Mossad.
"I would love to be in the Mossad and maybe I am. Who knows? I think that being a famous model is the best cover," Refaeli told the Associated Press on the set of the film.
She also told Israelis are used to hearing about covert operations blamed on the Mossad, but the al-Mabhouh killing was something sensational.
"This specific one sounded like a movie scene," Refaeli said. "It was just like reading a script."
But the Dubai killing was a cold, methodical and efficiently executed operation that did not include Hollywood hijinks or seduction scenes.
Instead, the disguised assassination team entered the city undetected on foreign passports, pulled off the highly complex operation, then escaped the country unscathed.
Dubai police outlined a 19-hour operation, where the agents, wearing disguises such as fake beards, wigs and tennis attire, kept close watch on al-Mabhouh for hours before slipping into his room and killing him.
Forensic tests indicated he was first injected in the thigh with a fast-acting, hard-to-detect muscle relaxant. Then he was suffocated with a pillow, Dubai police said.
The movie – being filmed at a hotel in Eilat – is expected to be released in Israeli theaters in 2013.