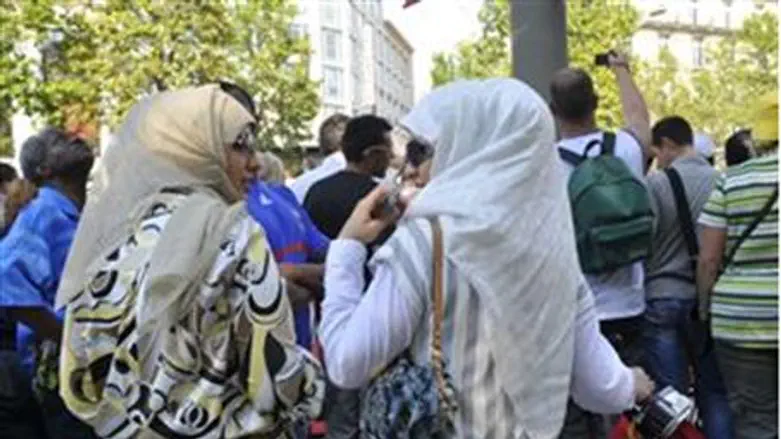 An Arab women
Israel news photo: Flash 90
Despite the prevalent allegations and misconceptions that Israel discriminates against its Arab population, the Jewish state, in fact, goes above and beyond in ensuring the success and happiness of its Arab population.
Israel's Ministry of Industry, Trade and Labor, in conjunction with the government-owned telecom company Bezeq, has launched a new initiative to incorporate Bedouin Arab women into the workforce.
As a result of their suppressive patriarchal lifestyle, husbands and fathers customarily prohibit their wives and daughters to go to work. However, these restrictions were somewhat dispelled by housing the new call center inside a mosque.
"Bedouin women would like to work, most of them, and they want to be a part of the work market and to contribute to the economy of the house alongside their husbands. But because there are no work places in the villages and they are not able to work outside the villages, this is preventing many of them from being a part of the work force," said Mahmoud Alamour, director of the center.
Now, dozens of women from one Bedouin town are earning a competitive salary without breaking societal norms.
One of the woman told Al-Arabiya news that she is very happy working for the Israeli company. "As a Bedouin woman I am so proud of myself because as a Bedouin girl I started from zero," she said.
"I think I have no problem with this project and if I sometimes need to go out of work in a specific time, like when a child is sick, Bezeq helps me –- they allow us to go and tend to our children," said Manal Abu-keren, a Bezeq employee.
Many of the women see the new opportunity as a way to improve their lots in life and hope to use their income to pay for future university studies.
Bezeq said they have been very pleased with the new call center and intend to expand the initiative.
Several other Israeli companies are also reportedly planning to target the Bedouin community with new jobs.