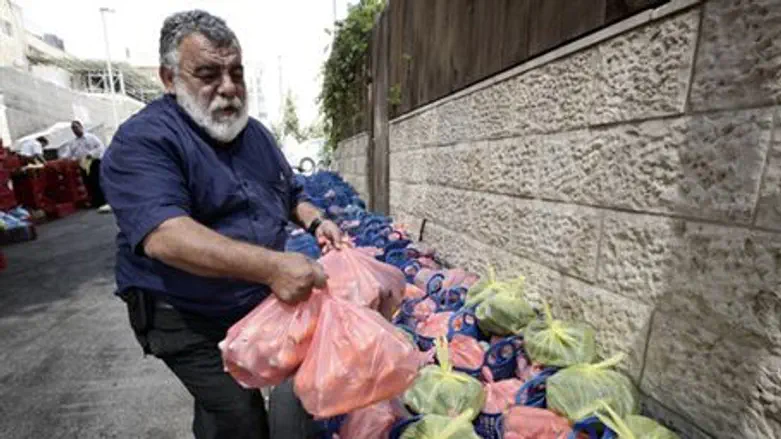 Food for the needy
Israel news photo: Flash 90
The UJA-Federation of New York set a Guinness World Record making 1,660 sandwiches in one hour to be donated to feed the hungry. The sandwich marathon was part of the annual Mitzvah Day, dedicated to doing good deeds to benefit local Jewish communities.
After recording the event for Guinness World Record certification, the sandwiches were donated to the Queens Jewish Community Council in Forest Hills and to the Long Island-based Interfaith Nutrition Network.
"UJA-Federation mitzvah projects are designed to energize children and families from the Jewish community into action," explained Amy Mandell, co-chair of the UJA-Federation Guinness World Record. "The challenge of making more than 1,500 sandwiches to set the record in just one hour stepped up the excitement into a frenzy of good will."
"All of our volunteers came away with a greater understanding that in one hour's time, it's possible to make a difference in the lives of so many who experience hunger and poverty in New York, while engaging them in our Jewish community," stated co-chair Barrie Overend.
"Poverty in New York and on Long Island is all around us, though not often visible. Throughout our communities there are families still suffering from the difficult economic climate, hungry behind the doors of their middle class homes, perhaps right next door," added co-chair Beth Eichenholtz. "Through mitzvah projects, the Jewish community remembers that it's important to make a difference in our local communities and that we touch the lives of those in need."
Following strict Guinness World Record standards, each of the sandwiches comprised two ingredients between two pieces of bread, in this case, soy butter and jelly in recognition of growing allergy sensitivities in the community.
In addition to the sandwich-making marathon, Mitzvah Day included a blood drive, visits to nursing homes, sorting and packing kosher food for the Kol Ditzrich Kosher Food Pantry, and other activities to benefit the Jewish community.