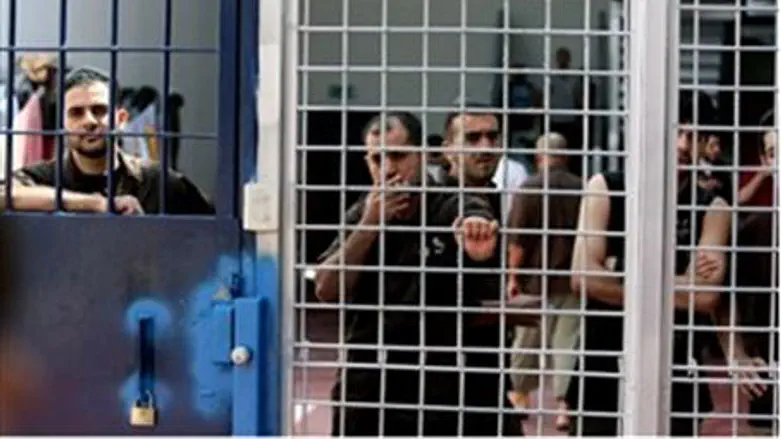 Prisoners in Ofer jail (archive)
Israel news photo: Flash 90
Palestinian Authority Arabs rioted outside Ofer Military Prison on Wednesday, hurling rocks at IDF soldiers securing the area. It was the second straight day of violence by protesters to support the hunger strike of two terrorists being held in the prison.
Some 250 rioters were gathered at the scene, but later were repelled by IDF forces who used various means to disperse the mob, including firing rubber bullets.
A spokesperson from the Popular Struggle Resistance Committee claimed that 20 of the protesters were injured, and that four or five were evacuated from the scene by ambulance.
The IDF, however, told reporters that only one protester was lightly injured.
The two inmates whose detention sparked the riot are administrative detainees, according to the Palestinian Center for Human Rights (PCHR).
Bilal Diab, 27, and Tha'er Halahla, 34, have been on a hunger strike for 64 days, according to the PCHR. Diab was incarcerated on August 17, 2011, and Halahla was jailed on June 29, 2010.
Both were allegedly placed under administrative detention without charges or trials. The organization claimed "their lawyers have not been informed of their charges, and the prosecution has informed the court of their charges as confidential information..." The two have reportedly been transferred to hospital as a result of their hunger strike.
The organization further claimed in a release sent to media and supporters that "at least 2,000 Palestinian prisoners in Israeli prisons and detention facilities have been on hunger strike" since April 17 as well. 
These prisoners are demanding an improvement in their living conditions, as well as "ensuring family visitations, particularly for the prisoners from the Gaza Strip; allowing detainees to receive education; and putting an end to the solitary confinement policy, repression and night searches."
For more than five years, kidnapped IDF soldier Gilad Shalit was held hostage alone in darkness by the Hamas terrorist organization in Gaza. He was denied visitation by anyone, including even the basic international right to see a representative of the International Committee of the Red Cross, who was to confirm the fact that he was still alive. More than 1,000 terrorists were freed from prison by the State of Israel in an exchange deal for his release in October 2011.
Likewise, Israeli agent Jonathan Pollard was convicted in the United States more than 26 years ago on a single charge of passing classified information to an allied nation, Israel. Although the crime carries a maximum 4-6 year  prison term, and a plea bargain was signed, at the last minute Pollard was inexplicably sentenced to life in prison without parole. He spent at least 10 years in solitary confinement, naked, in an unheated prison cell, and on numerous occasions was subjected to conditions that have permanently damaged his health. He remains in prison to this day.