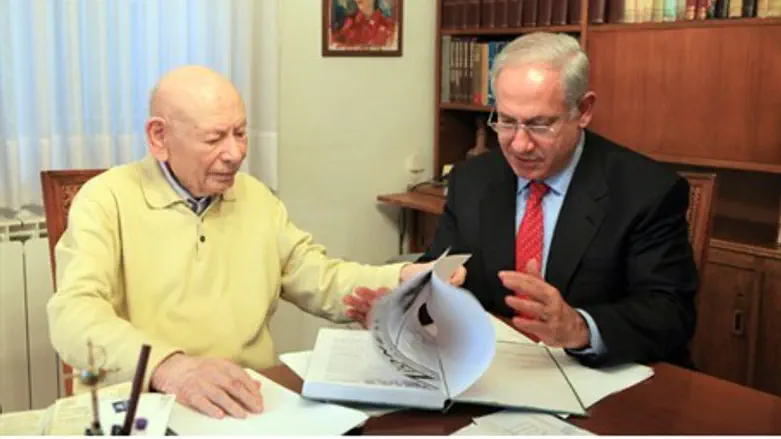 Ben Zion Netanyahu and the Prime Minister
Israel news photo: Flash 90
Prof. Benzion Netanyahu, father of the Prime Minister, passed away in his Jerusalem home early Monday morning, He was 102. His funeral will begin at 5 p.m. at the Har Menuchot Cemetery in the Givat Shaul neighborhood in Jerusalem.
The senior Netanyahu was the aide to Ze'ev Jabotinsky, the "father of Revisionist Zionism," and was a professor of Jewish history and was known as a strong nationalist.
Benzion Netanyahu was born in Warsaw and moved with his family to Israel in 1920. One of his sons, Yonatan, was killed in the raid on Entebbe, and he is survived by two other sons, Prime Minister Binyamin Netanyahu and Dr. Ido Netanyahu, a radiologist and writer.
After arriving in Israel, the Netanyahu family lived in Tel Aviv and Tzfat before settling in Jerusalem.
Benzion Netanyahu frequently traveled to New York to promote Zionism and remained there in the 1940s to act as executive director of the new Zionist Organization of America.
He opposed the United Nations Partition Plan for Palestine and returned to the newly-reestablished State of Israel in 1949. Benzion Netanyahu was editor of the mammoth Encyclopedia Hebraica (Hebrew Encyclopedia).
Five decades later, he opposed Prime Minister Netanyahu's agreement to compromise on sovereignty over Hevron and was strongly opposed to the "Disengagement" plan, under which the Sharon government, with Binyamin Netanyahu's initial support, expelled 9,000 Jews from Gush Katif and northern Gaza, destroyed their homes and ordered a total withdrawal of the IDF from the region.