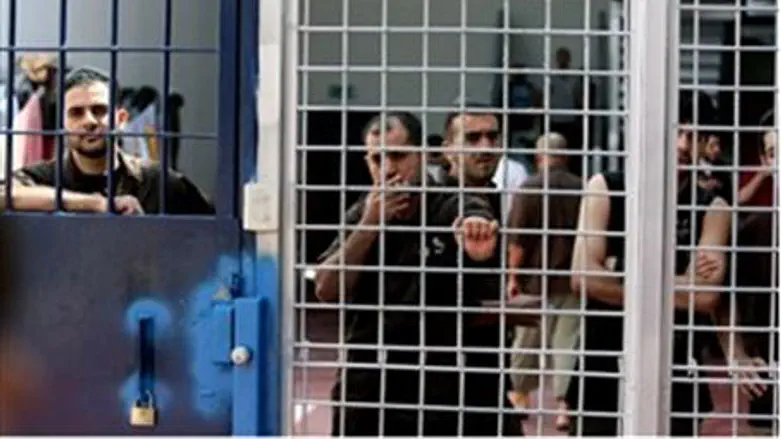 Terrorist Prisoners (illustrative)
Israel news photo: Flash 90
A Palestinian Authority Arab terrorist who has been on hunger strike for nearly two weeks was transferred on Sunday to the hospital wing of an Israeli prison near Tel Aviv, AFP reported.
Ahmed Saadat, secretary general of the Popular Front for the Liberation of Palestine (PFLP), began refusing food on April 17. The hunger strike is part of a mass hunger strike by terrorist prisoners and it is now being observed by least 1,350 such prisoners held in Israel.
Saadat was sentenced in 2008 to 30 years in prison for heading the PFLP. The PFLP is the same terror group that assassinated Israeli Tourism Minister Rehavam Ze'evi in 2001. Saadat is suspected of planning the murder.
"Ahmed Saadat was transferred to the hospital wing of Ramle prison but we don't have any details about his condition," Khalida Jarrar, a PFLP's MP in the Palestinian Authority government, told AFP.
Jarrar, said that Saadat, who was being held in Rimon prison in the southern Negev desert, had been refusing food for 13 days after starting an open-ended hunger strike along with some 1,200 other prisoners, a number which has since grown.
"Israel is responsible for his life because he is in an Israeli prison," she said.
A spokeswoman for the Israel Prisons Service (IPS) confirmed that Saadat, who is in his late 50s, had been transferred to Ramle prison on Friday, saying it was a cautionary measure and describing his health as "good."
"He was transferred to the prison medical facility due to his advanced age, in order to enable closer supervision," Sivan Weizman told AFP. "He is in good condition."
The mass hunger strike has been seen as another PR ploy for media attention by the Palestinian Authority for its unilateral demands for a state within Israel's borders.
Israel recently released Khader Adnan, a Palestinian Authority terrorist prisoner who went on a 66-day hunger strike over his administrative detention.
Adnan, who had been hospitalized and released after his health deteriorated during the strike, was freed when Israel caved in to the pressure and agreed not to renew his administrative detention order.
Another terrorist prisoner, Hana Shalbi, had been previously released following a 43-day hunger strike.
Meanwhile on Sunday, Hamas leader Khaled Meshaal said that Saadat's case will be submitted to the United Nations General Assembly.
Meshaal told journalists in Cairo that he had agreed on the course of action in talks with PA Chairman Mahmoud Abbas and with Arab League chief Nabil al-Arabi.
AFP quoted Meshaal as having said he was in "full coordination" with Abbas on the issue of the hunger-striking prisoners.
Meanwhile, the PA's minister of prisoners, Issa Qaraqaa, told AFP that contacts were under way between the Palestinian Authority, Israel, Arab countries and the European Union to try to resolve the issue of the hunger striking prisoners in Israeli jails.