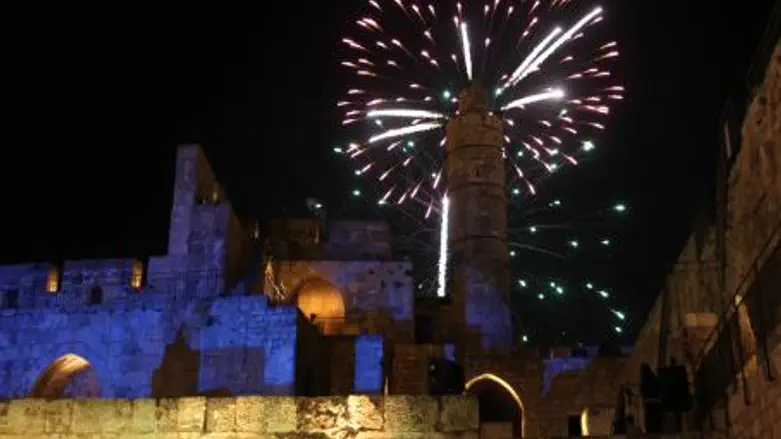 Jerusalem Day fireworks celebration
Israel news photo: Flash 90
The Day of Remembrance for slain IDF soldiers will begin Tuesday evening and be followed by Israel's 64th Independence Day.  This list of events was compiled by Anglo-List.Com. These are not Torah-oriented events. 
Tel Aviv
Main Event, Rabin Square, 9:00 p.m. - "Only in Israel" with the participation of military bands. Clips from different periods in Israel's history will be screened on giant screens and fireworks will paint the sky. With: Momi Levy, Miri Aloni, Shula Chen, and dozens of dancers, Tel Aviv youth and more. The evening will close with a performance by "Quartet" - with Shem Tov Levy, Alon Olearchik, Shlomo Yidov and Efraim Shamir.
Atzmadoodes – Children's Independence Day events at the  Performing Arts Center at 8:30 p.m.  –  Roni Superstar, Tel Aviv Youth Band, the entertainment show" Katzefet VeToot ,"  fire dances, juggling clowns, aerial acrobatics performances and fireworks.
Folk Dancing – Plaza Performing Arts Center, 11:00 p.m – dancing into the night with the best; Sarah Aviv and Gadi Biton combining instrumental and vocal performance and Tel Aviv University Dance troupe.
Park Davidoff, Jaffa, 8:30 p.m. – Michelle Cohen Music School program, Alon de Loco with the  LoCo Land show accompanied by musicians and  dancers, Woody G, Yaron Ramati, local bands and more.
Haifa
Moriah Blvd: Din Din Aviv, Carolina, Erez Lev Ari, Rami Kleinstein, Rita & Ethnix
Kiryat Sprinzak: Michal Tzafir, Shlomi Shabat, Idan Yaniv
Kiryat Shmuel: Kobi Machat, Meir Banai, Yishai Lapidot and the "Of Simchas" band
Central Carmel: Rami Kleinstein, Shiri Maimon and Shimon Buskila
Neve Shaanan: Michal Tzafir, Rami Kleinstein, Shlomi Shabat, Mooki
Kiryat Haim: Shiri Maimon, Shimon Buskila, Ethnix, Josh, Mooki and Eyal Golan
Kiryat Eliezer:  Russian artists and folk music
Jerusalem
Main Stage (Kikar Hahatulot).
The Even Yerushalmit band, Adir Getz, Yaniv Barmeli and Itay Moyal, Subliminal and Momi Levi, Yossi Azulai, Keren Peles. Hosted by Elad Amedi.
Stage at the Hillel Pedestrian Street – Street Party for the Young.
In collaboration with the Students Associations, young in the center:
DJ Ron Izraeli – Hebrew party
DJ Idan Ben Hamo – Funk party
DJ Stato – House anthems 2012
Main performance: Adir Getz
Independence Day opposite the walls at the Alrov Mamilla Avenue:
For students and youngsters – entrance with payment | At 22:00
DJ Itzik Dadia
DJ Shachar Ud
Tickets can be purchased at the Students Association and at Telephone: 073-7073617
Hamashbir Stage for the Religious Zionist Public:
Ezra Movement, Bnei Akiva and more
The Ruach Zfonit band in an exhilarating dancing event
Aaron Razel
The Pirchei Yerushalayim Band
DJ Hanania Ohana
Singing independence at the Safra Square stage:
Arbaa Bemol Band with Aaron Ferrera and Yael Badash
Israeli Rock at the Square: a tribute to the founders if Israeli Rock since the days of the state's establishment: Arik Einstein, Shalom Hanoch, Matti Caspi, Shlomo Artzi, Gidi Gov, Danny Sanderson and more.
Dancing Independence at the Safra Square stage:  from 11:30 p.m – 3:30 a.m.
A mass dancing event, Israeli and other folk dances, with leading dance guides: Avner Naim, Haim Tzemach, Boaz Cohen, Mimi Cogan, Gidi Eiko.
00:30: Fireworks display above the Experimental High School, Independence Park
Rehovot
Main Stage: Liran Danino, David Deor, Dana International, Youth choir and dancers led by Itai Segev
Park Hameginim: Matti Caspi, Gabi Shushan, Shiri and Uzi Fuchs
Hershonson Stage.: Margalit Tzanani, Benny Elbaz , Gabi and Micky Nes, Shlomit Bouhnik, Moran Kriti, Tamir Lidanil, Nati Chen and "The Independence Ride" – a 15 km. bicycle ride on Thursday morning  at 9:00 from Sportec city. For information and registration: 08-9392239.
Netanya
Winter Lake Park: Roni Superstar, Berry Sakharof, Hadag Nahash, Beit Habubot, DJ Erez Shitrit
Kikar Ha'atzmaut: Danny Sanderson, Moshik Afia.