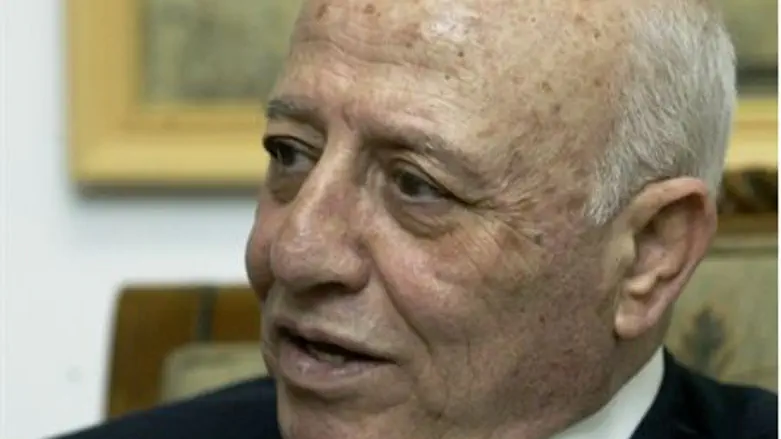 Ahmed Qureia (Abu Ala)
Israel news photo: Flash 90
The former Palestinian Authority Prime Minister, Ahmed Qureia, said Monday that the Israeli-PA peace process is "no more than a waste of time."
Qureia insisted that Israel's decision not to halt construction in Judea, Samaria, and eastern Jerusalem for a second time made peace talks impossible.
"If this is the policy, I think it is a big lie to talk about the two-state solution," he told The Associated Press. "They are killing the opportunity of two-state solution. If it dies ... one state is one of the choices."
He implied the PA may drop the "two-state solution" outlined in the 1993 Oslo Accords that would result in two states — Israel and Palestine —existing next to one another.
Instead, he said, the PA might seek "a multi-ethnic state covering all of historic Palestine, including Israel."
Israeli officials reject that settlement construction is a so-called "obstacle to peace," saying PA preconditions are aimed at forestalling talks in which they would have to make unpopular compromises.
They note that a previous 10-month construction freeze in the 'disputed territories' aimed at meeting PA demands was not only rebuffed, but met with more preconditions and a unilateral statehood bid at the United Nations in violation of existing agreements.
At present, PA officials insist Israel agree to the indefensible pre-1967 lines for future borders, halt construction in the 'disputed territories,' and release all Arab terrorists from its jails before talks can begin.
Observers note that seeking a state that would eliminate Israel is consistent with PA/PLO policy.
Article 9 of the PLO charter continues to assert, "Armed struggle is the only way to liberate Palestine. This it is the overall strategy, not merely a tactical phase."
It also maintains "Palestine" is defined by the British Mandate and is "indivisible" – thus leaving no room for Israel, or Jordan, to exist at all.
PLO officials have refused to amend their charter numerous times since the 1993 Oslo Accords were signed.
In December 2011, the PLO announced it had decided on "a strategy based on continuous efforts along with the international community to secure full recognition and full United Nations membership, pursuing internal reconciliation, and keeping up the popular resistance."