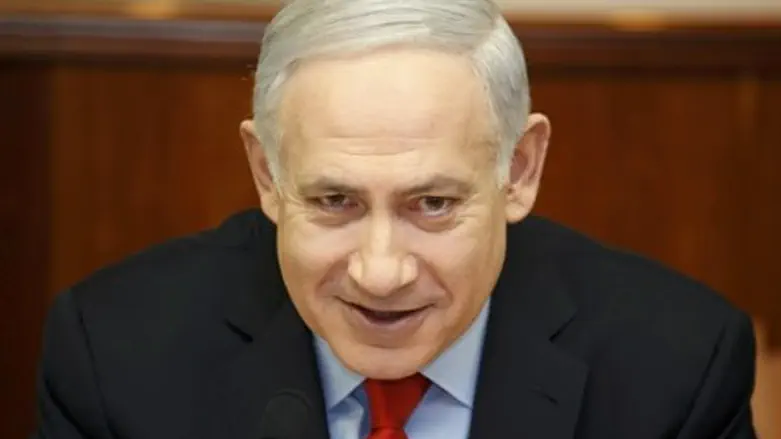 Binyamin Netanyahu
Reuters
Prime Minister Binyamin Netanyahu on Monday said Egypt's decision to cancel the Egypt-Israel gas deal was "a business dispute" rather than being political in nature.
"We don't see this cutoff of the gas as something that is born out of political developments. It's actually a business dispute between the Israeli company and the Egyptian company," Prime Minister Benjamin Netanyahu told a group of Israel Bonds leaders today.
Netanyahu added, "But alongside that I have to say that we have gas reserves to make Israel totally energy independent, not only from Egypt but from any other source, and to have Israel become one of the world's large exporters of natural gas. So we're quite confident on that score."
However, Knesset opposition leader Shaul Mofaz described Egypt's decision as a "possible breach of the Camp David accords."
He also called on the United States, who brokered the 1978 Egypt-Israel Peace Treaty, to immediately "take a clear stand" on the issue.
Meanwhile, Foreign Minister Avigdor Lieberman went as far as to suggest bolstering Israel's military presence along the Sinai border.
"The Egyptian case is much more worrisome than the Iranian one," The Hebrew-language Ma'ariv quoted him as saying.
Late on Sunday the East Mediterranean Gas Company (EMG) issued a statement that Egypt was ending the Gas Supply and Purchase Agreement between the two parties.
"Egyptian General Petroleum Corporation [EGPC] and the [state-run] Egyptian Natural Gas Holding Company [EGAS] notified EMG that they were terminating the Gas Supply and Purchase Agreement between the parties," the Ampal statement read.
The company added "EMG considers the termination attempt unlawful and in bad faith, and consequently demanded its withdrawal."
EMG, Ampal and EMG's other shareholders were "considering their options and legal remedies as well as approaching the various governments," it added.
Israel, through the Ampal-American Israel Corporation, owns a 12.5 per cent stake in EMG.
Egyptian Petroleum Authority head Hany Dahy told Al-Jazeera late Sunday that Egypt is ready to consider any offers from EMG regarding "late payments."
"We have approached the Israeli side for the delayed payments but to no avail," Dahy said during a television interview..
He added that the decision to terminate the contract was taken after detailed legal consultation.
Dahy said the contract stipulates that one of the parties can terminate its obligations if the other does not fully comply with the terms of the contract.
"All legal precautions were taken to shelter Egypt from any legal claims for reparations following the decision," Dahy said.
Egypt's Mubarak-era gas deal with Israel has been an issue of controversy since its inception.
Critics have openly accused the ousted Egyptian strongman Hosni Mubarak of selling the gas to Israel at below international prices in what they term a "sweetheart deal."
However, Israeli officials have repeatedly noted that the price they pay for natural gas is better than other regional exporters receive and is in line with international prices.
Nonetheless, Mubarak is currently on trial, facing charges of conspiring with fugitive businessman Hussein Salem to export gas to Israel at below market prices.
Former minister of petroleum, Sameh Fahmy, as well as other former Egyptian officials are also on trial because of the prices stipulated in the gas deal with Israel.
Since the January 25 2011 uprising that led to Mubarak's ouster on 11 February 2011, the Sinai gas pipeline feeding Israel and Jordan has been bombed 14 times.
Previous explosions have resulted in weeks-long supply stoppages to Israel and Jordan, and spiking electricity costs for consumers in the Jewish state.
Egypt's interim military junta and now-ascendant Islamist parliamentary majority have been under strong public pressure to cancel the gas deal with Israel.
Officials in Cairo have also sought to retroactively alter the deal and raise prices in a move rejected by Israeli officials.
Political analysts say that unilaterally cancelling the deal based on late payments - an easily remedied technical contract violation - is almost certainly a sop to the intense anti-Israel sentiment in post-Mubarak Egypt.
The 20-year natural gas deal signed between Israel and Egypt in 2005 has been touted as a pillar of Egyptian-Israeli economic cooperation – but may now be at an end.