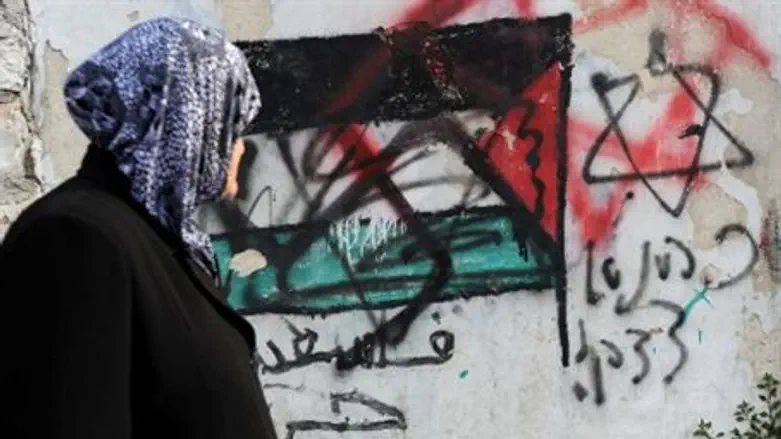 Swastika and PA flag at Shimon HaTzadik
Israel news photo: Flash 90
"There is no difference between the Nazis and those who stabbed and try to kill a Jew tonight near the Tomb of Simon the Righteous," Yoni Yosef told Arutz Sheva. Yosef's comments followed an attack in which a young Jewish man was stabbed after evening prayers at the tomb. Two Arab men have been arrested in connection to the assault.

The attack took place as Holocaust Memorial Day was ending.

Yosef, spokesman for the Jewish community in the Shimon Hatzaddik neighborhood (known in Arabic as Sheikh Jarrah), said PA terrorists are like Nazis because they target all Jews simply because they are Jewish.

"The attack will not deter us from visiting the tomb, just as Jews were not deterred from coming here for 2,000 years," he declared. In fact, he said, the solution is more Jewish presence not less, "This neighborhood will be safe again only when many Jewish residents and visitors come here."

"I hope police will take a heavy hand against those thugs who continue the path of the Nazis, with the common ground being that both try to destroy the Jewish people," he added.

The Shimon Hatzaddik neighborhood was purchased by Jews living in Israel more than 140 years ago. It was conquered by Jordan during the War of Independence, and the Jewish-owned homes in the neighborhood were given to Arabs in the 19 years that followed.

Since the reunification of Jerusalem in 1967 several Jewish families have purchased homes in the neighborhood, creating a new Jewish community around the ancient Shimon Hatzaddik tomb.