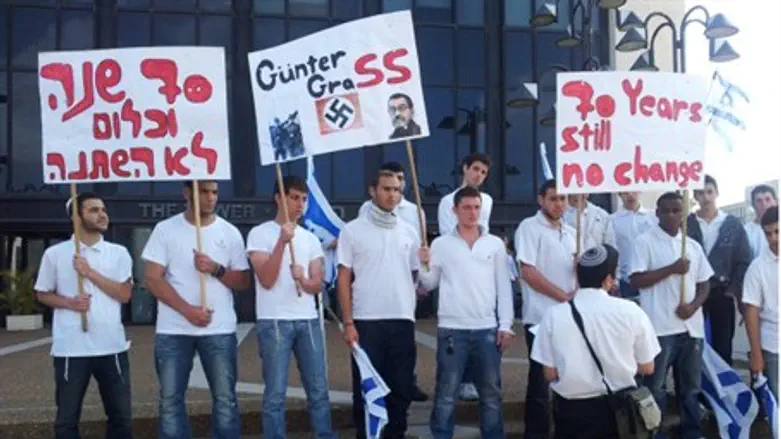 Protest outside German embassy
Yoni Kempinski
Yeshiva students held a protest outside the German Embassy in Tel Aviv as the memorial siren for Holocaust Day sounded Thursday morning. The students, members of the Young Leadership program in Petach Tikva's New Amit Yeshiva, held Israeli flags and signs that said – "70 years and nothing has changed."
They focused their protest on writer Günter Grass, who recently published a poem that singles out Israel as a "danger to world peace" because of its insistence on defending itself from a possible Iranian nuclear bomb.
They also wrote a letter to German Chancellor Angela Merkel, protesting rising anti-Semitism in Europe. They handed the letter to an embassy official who came out of the embassy to talk to them. The official took the letter and promised to deliver it.
"Anti-Semitism has not disappeared, only changed its shape," the letter reads. "When Grass was a young man, his leader and he himself believed that the Jews put the world in danger; now he believes that the existence of the Jewish Nation is the danger.
We, the grandchildren and the great-grandchildren of the survivors of the Holocaust, young people whose lives have been formed and shaped under the shadow of this terrible crime done to our Nation, will never stop reminding your people of the past and calling on German and EU leaders, to do more to stop this New Anti-Semitism.
They called on Merkel to condemn Grass's statements. "History repeats itself. Please, don't let this dreadful chapter in human history  repeat itself again."