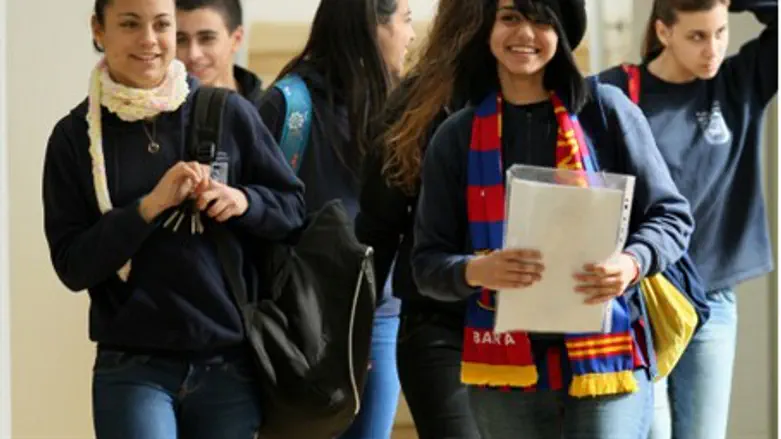 University Students
Israel news photo: Flash 90
The Zionist Organization of America (ZOA) is demanding that Florida Atlantic University (FAU) "recognize its legal and moral obligation to specifically condemn anti-Semitic bigotry, harassment and intimidation on campus," with regards to the anti-Semitic mock eviction notices posted by 'Students for Justice in Palestine' on 200 Jewish residences.
The ZOA issued a press released calling on "FAU [to] provide more transparency in order to explain how it arrived at the conclusion that no one was targeted by a student hate group's message."
Dr. Charles Brown, Senior Vice President of FAU, said that the university has "found no evidence that the postings were intended to target or intimidate individuals of any particular religion, national origin, or faith."
However, as the ZOA notes, the mock eviction notices were clearly directed toward Jewish students on campus and utilized anti-Semitic "false accusations of racism intended to demonize Israel -- which also has the effect of causing otherwise uninformed students to associate those bad attributes with Jews in general -- were simply dismissed as 'divergent.'"
Joseph M. Sabag, Director of ZOA's Florida Regional Office, stated, "FAU's conclusion that no one was targeted in this matter is incorrect, irresponsible and harmful. The mock eviction notices were intended to target Israel, and the specific nature of its demonizing message also targets Jewish people by extension. FAU's refusal to address Students for Justice in Palestine's substantive message, as well as the lack of transparency regarding its investigation and remedial actions, indicate these conclusions may have been a predetermined outcome. This issue is not just going to disappear.
"FAU has an affirmative legal and moral obligation to speak out and identify anti-Semitic hate and bigotry on campus in order to ensure the safety and rights of all members of the university community, and to prevent receptivity among naive and unsuspecting students to false and biasing messages. 
"The situation at FAU has nothing to do with the students' free speech," Sabag added. "Suggestions to the contrary are merely a diversion from the true matter at hand. This is about the FAU administration's legal and moral obligation to recognize bigotry on campus and call it out by name.
"Furthermore, this was not an isolated incident. FAU and Dr. Brown had been previously provided with evidence documenting SJP's anti-Semitism and calls to violence by ZOA, and the University was also contacted by a member of Congress who expressed similar concerns. By denying the anti-Semitic nature of SJP's hateful message and refusing to publicly demonstrate remedial action, Florida Atlantic University is inviting further incidents of this kind to take place."

A ZOA statement reiterates its demand that "Florida Atlantic University take several steps to safeguard against an anti-Semitic environment on campus, including: 
-- Immediately speak out and publicly condemn the anti-Semitic acts of Students for Justice in Palestine both on and off campus;
-- Further investigate allegations that Jewish students were specifically singled out for the eviction notices;
-- Apply strict scrutiny to all of SJP's activities, past present and future, and apply appropriate disciplinary measures under the University's code;
-- Implement all necessary protocol and procedures to prevent any apparent endorsement by FAU of any of SJP's activities; and
-- Promote education among administration officials and staff about the University's obligation under Title VI to ensure a campus environment that is physically and emotionally safe and conducive to learning for all students."
In November 2005, the U.S. Commission on Civil Rights recognized that anti-Israel and anti-Zionist sentiment can cross the line into anti-Semitism, and in their words "should be distinguished from legitimate discourse regarding foreign policy." The Commission clearly stated, "Anti-Semitic bigotry is no less morally deplorable when camouflaged as anti-Israelism or anti-Zionism." The Commission specifically called on university administrations to publicly speak out and "set a moral example by denouncing anti-Semitic and other hate speech, while safeguarding all rights protected under the First Amendment and under basic principles of academic freedom." The U.S. Department of Education's Office on Civil Rights has made the same request of university administrations.
In March 2008, the U.S. State Department issued a detailed report on anti-Semitism globally, recognizing that anti-Zionist sentiment and criticism of Israel can cross the line into anti-Jewish bigotry. Whether intended or not, such expressed sentiment and criticism can have the effect of promoting prejudice against Jews.
As an example, the State Department noted that demonizing Israel and/or Israelis "as barbaric, unprincipled, selfish, inhumane, etc. is anti-Semitic and has the effect of causing audiences to associate those bad attributes with Jews in general." This is often referred to as the 3-D methodology - Demonization, De-legitimization and Double-Standards. This type of anti-Semitism is no less hurtful or harmful than more traditional forms of anti-Jewish bigotry, and universities have the moral and legal obligation to address it if and when it occurs.