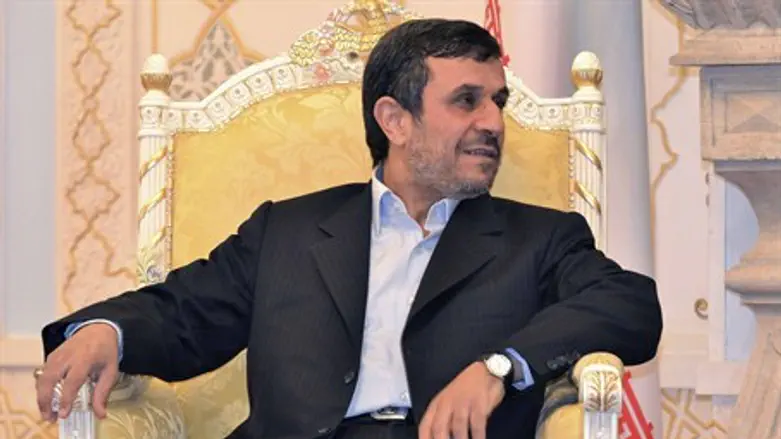 Mahmoud Ahmadinejad
Reuters
Iran on Tuesday claimed it had unearthed a "major terrorist group" affiliated with Israel and made several arrests.
"Iran's Intelligence Ministry announced it has identified a major terrorist group from the Zionist regime (of Israel) and has arrested some of its protected operational members inside the country," the official IRNA news agency reported.
IRNA did not indicate when the arrests are supposed to have happened.
The semi-official Fars news agency said the suspects were arrested "while preparing to carry out terrorist acts."
It claimed that a considerable number of "bombs, machine guns, military and communication equipment" were also seized.
The Islamic Republic accused Israel in January of funding and training the People's Mujahedin of Iran (MEK), which has targeted Iranian nuclear scientists for assassination.
It is widely believed the MEK has killed five Iranian nuclear scientists since 2007, and may have destroyed a key missile research and development site.
Israeli officials adhered to their iron-clad custom of not commenting on intelligence matters in regard to Tehran's charges.
In recent months Iran has been accused of targeting Saudi and Israeli diplomats for assassination, leading analysts to suggest Iran is attempting to mount a propaganda campaign to mitigate potential fallout.
Two Iranians with alleged links to Iran's elite covert foreign operations Quds force were indicted in a US court for seeking to assassinate Riyadh's envoy to Washington, while Iranian nationals have been implicated in recent bombings targeting Israeli diplomats in Bangkok and Delhi.
Tehran's accusation also comes ahead of nuclear talks between Iran and the P5+1 – the five permanent members of the UN Security Council plus Germany – regarding its nuclear program.
Iran rejects Western allegations that its nuclear program is a veil for nuclear weapons research.
However, in early March, the head of the IAEA said there were indications that Iran was engaged in the development of nuclear weapons.
"Iran is not telling us everything. That is my impression. We are asking Iran to engage with us proactively, and Iran has a case to answer," said IAEA director Yukiya Amano.
His remarks followed two recent IAEA reports that indicated Iran had sought – and likely continues to seek – nuclear technologies of a military nature.
IAEA experts previously reported Iran's production of 20% enriched uranium is far greater than needed for peaceful purposes.