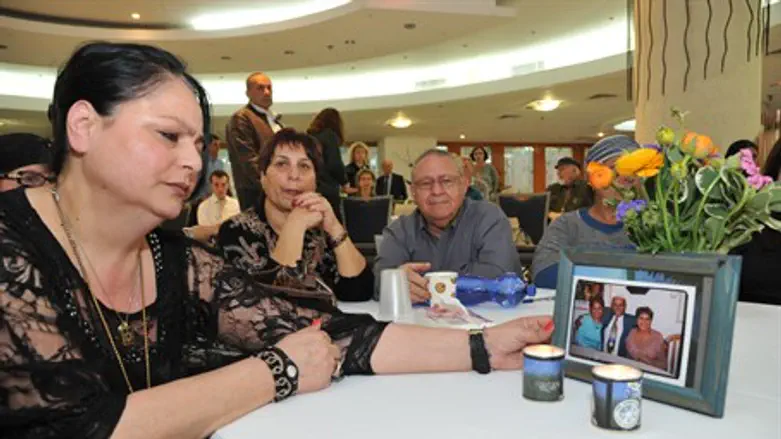 Dalia Falistian lights memorial candles for h
Courtesy of OneFamily
This Passover marks ten years since the deadly terror attack at Park Hotel in Netanya. On Erev Pesach in 2002, as hundreds of people were celebrating the Passover Seder in the hotel dining room, a Hamas suicide bomber entered and blew himself up.
30 people were killed in the attack, the deadliest one in the Second Intifada, also known as the Oslo War, which broke out in 2000. 140 people were injured.

Ten years after the massacre, over a hundred victims and their families returned to the Netanya hotel for a memorial gathering and therapy session, within the framework of their ongoing treatment and care of the OneFamily organization.
At the memorial service, attended by Chief Rabbi Yona Metzger, the OneFamily Bereaved Fathers Choir sang verses from the Book of Psalms, Yair Hamami, whose father and manager of the Park Hotel Amiram was killed in the attack, recited the Kaddish prayer, and relatives of the victims lit memorial candles for their loved ones.
Dalia Falistian, whose parents were killed in the attack, said during the memorial, "I'm not broken. I'm strong. I don't want anyone in Israel and in the whole world to forget the Park Hotel."
"Returning to the Park Hotel is an integral part of the healing and rehabilitation of the victims, offering them the opportunity to remember and display their resilience in the face of such tragedy," said OneFamily founder and chairman Marc Belzberg. "At OneFamily, we will continue to support the victims into the next decade, for as long as they need us."
Belzberg told Arutz Sheva, "All victims are one family. All the Jewish people are one family, and that is the magic that heals."
Over the last ten years, OneFamily has affected the rehabilitation of thousands of Israel's 17,000 victims of terror; facilitating their healing and reintegration into society by providing material and rehabilitative support to anyone who has been bereaved, injured and/or recognized as suffering from post-traumatic stress disorder. The recipients of the 2011 Presidential Citation for Volunteerism, OneFamily uniquely provides a tailor-made blend of financial assistance, therapeutic programs, legal assistance, personal encouragement and moral support.
The Jerusalem-based organization, which is led by founders Chantal and Marc Belzberg, grew from their then-12-year-old daughter's initiative to donate her bat mitzvah gifts to benefit the victims of the 2001 Sbarro suicide bombing attack.

Today, with 37 professionals and nearly 750 volunteers working from four centers around Israel, OneFamily operates in close cooperation with representatives of government, municipal and community agencies to assure that every terror victim in need of support is known to the organization. The aim of OneFamily, with the help of friends and supporters around the world, is to assure continuity of care for terror victims into the next decade and beyond.