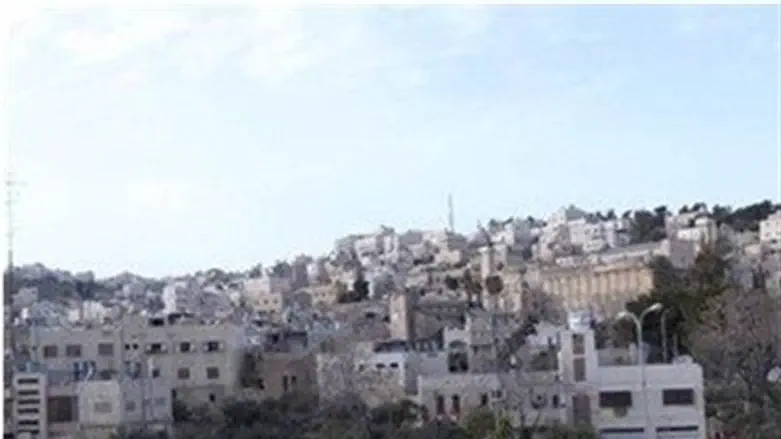 Machpelah House
Hezki Ezra
Residents of the newly populated Machpela House in Hevron received official IDF orders Monday to leave the premises "out of concern for public safety."
"The eviction orders we received this hour speak for themselves," the residents said, "and make it clear that there is no problem with the purchase of the house. The sale is completely 'kosher' and the only thing that bothers [Defense Minister] Ehud Barak is the fact that Jews live in Hevron. If there is a prime minister in Israel, we call on him to wake up and cancel the Draconian order that forbids only Jews from living in Hevron."
Lawyers for the residents of Machpela House met Sunday with representatives of the IDF's Civil Administration and discussed the legality of the purchase of the home, which the residents moved into last Wednesday.
The IDF representatives examined the purchase documents and confirmed that the purchase is legal. However, they said that they are awaiting the final approval of the political tier.
MKs Aryeh Eldad (National Union) and Ze'ev Elkin (Likud) from the Knesset's Land of Israel Lobby called on Prime Minister Binyamin Netanyahu to immediately cancel the "scandalous" eviction order issued to the Machpela House residents.
"The wording of the order, which demands the house be vacated only because of the need for 'public order,' is ample proof that the sale is legitimate," they said. "'Public order' in the City of Patriarchs cannot mean preventing Jews from living opposite the Cave of Machpela. And it is unacceptable that the Defense Minister decides takes the law into his hands and decides matters before the government has discussed the issue."
Minister Limor Livnat (Likud) called the decision to issue an eviction order "hurried." The owners have documentation that shows the deal was legitimate, and the police found no reason to suspect foul play, she noted – therefore "they should be treated as the legal owners of the property unless otherwise proven. Just as they would be treated in Tel Aviv or anywhere else in the Land."
Ministers Yuli Edelstein and Gideon Saar of Likud and Eli Yishai of Shas, as well as MKs Danny Danon (Likud) and Michael Ben-Ari (National Union), all issued statements criticizing the eviction order as premature and calling on the IDF to wait for a government decision on the matter.
"The Likud was elected to develop the settlement enterprise in Judea and Samaria, and the government headed by us will not let leftist elements in the Civil Administration hurt the settlers," said MK Danon.