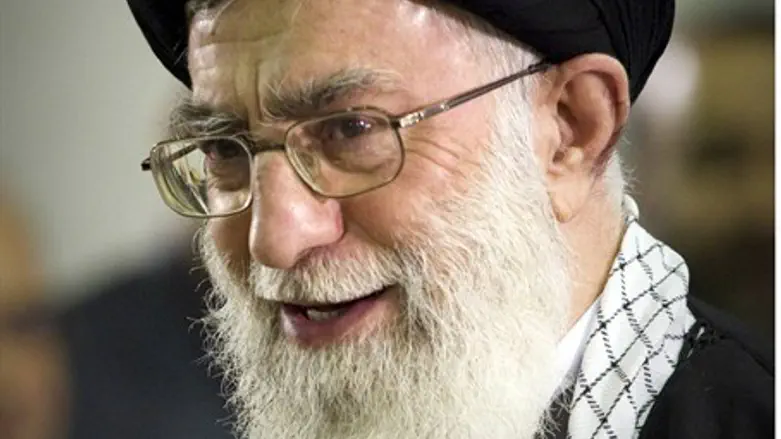 Ali Khamenei
Reuters
Iran will defend the Syrian regime due to its anti-Israeli stance, the Islamic Republic's supreme leader said on Thursday.
According to a report in The Daily Star, Ayatollah Ali Khamenei made the comments during a meeting with visiting Turkish prime minister Recep Tayyip Erdogan.
"Iran will defend Syria because of its support for the anti-Zionist regime resistance," Khamenei was quoted as having said as he received Erdogan in the northeastern city of Mashhad.
The supreme leader reiterated Tehran's staunch rejection of foreign intervention in Syria, saying, "We are strongly opposed to any interference by foreign forces in the internal affairs of Syria... the reforms which have begun there should continue."
Erdogan was quoted as telling Khamenei that the region is facing "a very difficult situation which Turkey hopes to be resolved."
Khamenei, according to the report, warned against any U.S.-led initiative to resolve the conflict in Syria, saying Iran would "strongly oppose" such a plan.
The United Nations says more than 9,000 people have died in Syrian President Bashar Assad's crackdown against anti-regime protesters.
Erdogan arrived in Tehran on Wednesday, where he has met with Iranian President Mahmoud Ahmadinejad, First Vice-President Mohammed Reza Rahimi and Majlis (Parliament) Speaker Ali Larijani.
Earlier Thursday, according to a statement quoted by The Daily Star, Erdogan voiced his country's unwavering support for Tehran's nuclear ambitions. The comments were made during his with Ahmadinejad.
Ahmadinejad thanked Turkey for its "clear and frank" stance on the issue, the statement added.
On Wednesday, Erdogan rejected outside pressure on the Islamic Republic's nuclear program.
"No one has the right to impose anything on anyone with regards to nuclear energy, provided that it is for peaceful purposes," Erdogan said at a news conference after talks with Iranian First Vice President Mohammad Reza Rahimi. "Everyone with commonsense opposes nuclear weapons," he added.