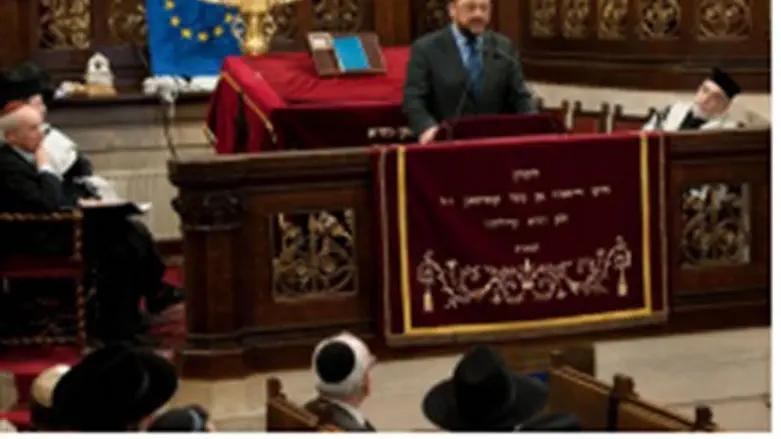 Award ceremony in Brussels
Israel news photo: courtesy of Conference of European Rabbis
Former Polish Prime Minister Jerzy Buzek has received European Jewry's highest honor: the Lord Jakobovits Prize of European Judaism, named after CER's second president, former British Commonwealth Chief Rabbi Immanuel Jakobovits (1921-99).
Buzek received the award at a ceremony in Brussels where European Union leaders
paid tribute to the victims of Toulouse terrorist Mohammed Merah
.
The Conference of European Rabbis (CER) bestowed the award on Buzek, who was also the predecessor of the current head of the European Parliament, Martin Schulz, for his efforts in support of European Jewry.
At the ceremony, held at the Great Synagogue of Europe, officials highlighted the importance of the European body to protect religious minorities.
Schulz told the gathering that the killings of Jewish children had been "a terrible shock," and underscored the role of European integration after the Holocaust.
Schulz emphasized the importance of having many different cultures in forming the "richness and the great heritage of the European continent."
The gathering was organized by the CER with the support of the European Jewish Congress (EJC), the Belgian Jewish umbrella organization (CCOJB) and the Jewish Community of Brussels. Officials from other EU institutions, ambassadors as well as chief rabbis and other representatives of European Jewish communities were also present, including Toulouse Chief Rabbi Avraham Weill.
"Jerzy Buzek has always been a great friend of the Jewish people," noted CER president Rabbi Pinchas Goldschmidt. "Both as Polish prime minister and European Parliament president, he built bridges, vigorously fought anti-Semitism, helped to keep up the memory of the Shoah (Holocaust) and was a supporter of the State of Israel."
Buzek, for his part, called the award a tribute to the Polish people, and said that for centuries, "Jews have settled there because they found a spirit of tolerance that is often lacking in other parts of Europe."
On a personal note, however, Buzek added that the award meant recognition of his "efforts that the lessons of the Holocaust will never be forgotten."