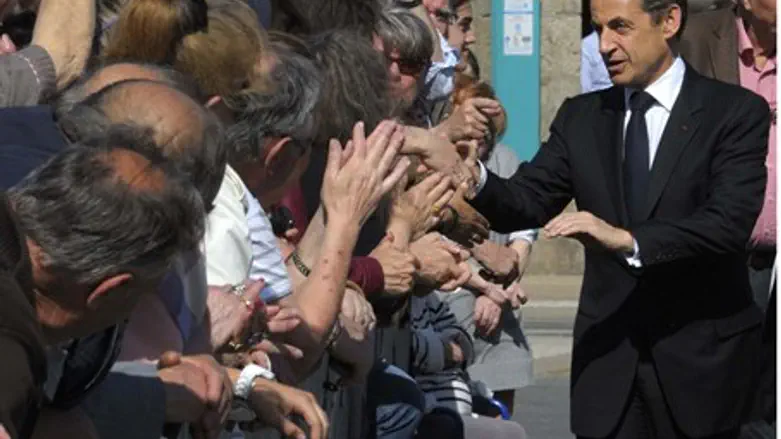 Nicolas Sarkozy Gladhands French Voters
Reuters
French prosecutors are pressing ahead with the trial of a Franco-Algerian nuclear scientist on terrorism trials, just one week after the dramatic demise of Franco-Algerian mass murderer Mohamed Merah fresh in the national memory,
The trial opens as President Nicolas Sarkozy finds himself trying to deal with the fallout of Merah's murder of three French paratroopers and four Jews - including three children - on the campaign trail. 
French police arrested Adlene Hicheur, a researcher at the European Organization for Nuclear Research (CERN) investigating the "Big Bang," in October 2009 after intercepting emails he wrote.
Following his arrest at his parents' home near CERN, which lies on the Franco-Swiss border northwest of Geneva, police discovered a trove of al-Qaeda and Islamic extremist literature.
France's DCRI domestic intelligence agency's suspicions were raised in 2008 following a statement from Al-Qaeda in the Islamic Maghreb (AQIM), which was sent to Sarkozy at Elysee Palace.
On March 1, 2009, Hicheur wrote an email to Debchi saying he would "propose... possible objectives in Europe and particularly in France."
On March 10, he continued: "Concerning the matter of objectives, they differ depending on the different results sought after the hits. For example: if it's about punishing the state because of its military activities in Muslim countries -- Afghanistan -- then it should be a purely military objective. For example: the air base at Karan Jefrier near Annecy in France. This base trains troops and sends them to Afghanistan."
In June 2009, Debchi asked Hicheur: "Don't beat around the bush: are you prepared to work in a unit becoming active in France?"
Hicheur replied on June 6: "Concerning your proposal, the answer is of course YES, but there are a few observations: ...if your proposal relates to a precise strategy - such as working in the heart of the main enemy's house and emptying its blood of strength - then I should revise the plan that I've prepared."
Magistrates investigating the case said the exchanges "crossed the line of simple debate of political or religious ideas to enter the sphere of terrorist violence," adding  that he "knowingly agreed with Mustapha Debchi to set up an operational cell ready to carry out terrorist acts in Europe and in France."
If found guilty, Hicheur could be sentenced to 10 years in prison.