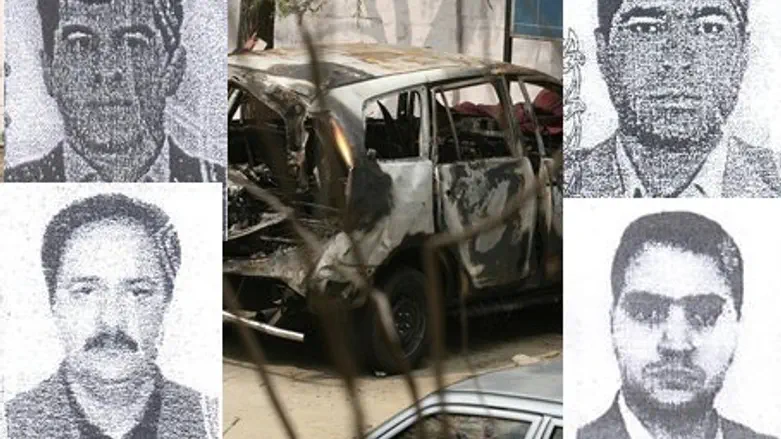 Delhi suspects, burnt car.
Reuters, Interpol website
INTERPOL, acting on a request from India's Central Bureau of Investigation, has issued Red Notices for four suspects wanted in connection with the February 13 bomb attack on an Israeli diplomat's car in New Delhi. India issued warrants for three of the suspects ten days earlier. 
Details of suspects Mohammadreza Abolghashemi, Houshang Afshar Irani, Seyed Ali Mahdiansadr and Masoud Sedaghatzadeh, all of whom are wanted for terrorism and related offenses including criminal conspiracy and attempted murder, have been transmitted to INTERPOL's 190-member countries.
The attack left Tal Yehoshua-Koren, the 42-year-old wife of a member of the diplomatic staff, with serious injuries, and also wounded her driver and two bystanders.
INTERPOL Secretary General Ronald K. Noble said India's request for the Red Notices would make it extremely difficult for the suspects to travel internationally in an attempt to evade capture.
"Through requesting INTERPOL Red Notices, India has ensured that law enforcement officials around the globe are alerted to the wanted status of these fugitives, and therefore reduces their options for international travel," said Noble.
"INTERPOL is uniquely placed to ensure that vital police information and support are made available to the global law enforcement community when and where it is needed," concluded the head of INTERPOL.
INTERPOL Red Notices serve to communicate to the world's police that a suspect is wanted by a member country and request that the suspect be placed under provisional arrest pending extradition.