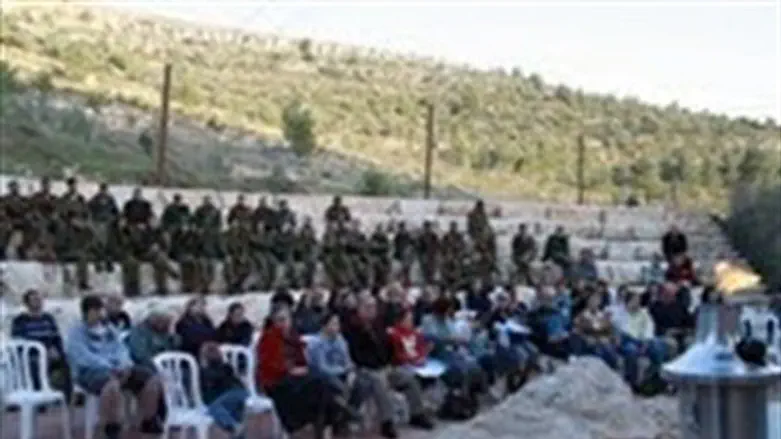 Memorial ceremony for Wadi Haramiya terror at
Tazpit agency
Wednesday marked ten years since the terror attack in Wadi Haramiya in March of 2002.

Ten Israelis were killed in the sniper attack, when 22-year-old Tha'ir Kayid Hamad, an Arab from the village of Silwad, ambushed an IDF checkpoint near Ofra. He killed both soldiers and civilians who stopped at the checkpoint.

Hamad was arrested two years after the attack and was sentenced to 11 life sentences.

A special memorial ceremony for the attack victims was held and was attended by the victims' families, Binyamin Regional Council Chairman Avi Roeh and the commander of the IDF's Binyamin Brigade, Sa'ar Tzur.

One of the victims of the terror attack was David Demlin, the commander of the platoon that came under attack. After the terrorist shot and killed some of the members of the platoon, Demlin and the unit's medic, Yochai Porat, emerged from a barracks building in which they were staying to locate the shooter and assist the casualties. Both were shot to death.

Since the attack, the checkpoint has been turned into a memorial for those who were killed. For David's brother, Eran, however, the place "still feels like a battlefield."
"I can appreciate what they did here, and I'd rather that someone remembers and sees what the futilities of war are like," he said.