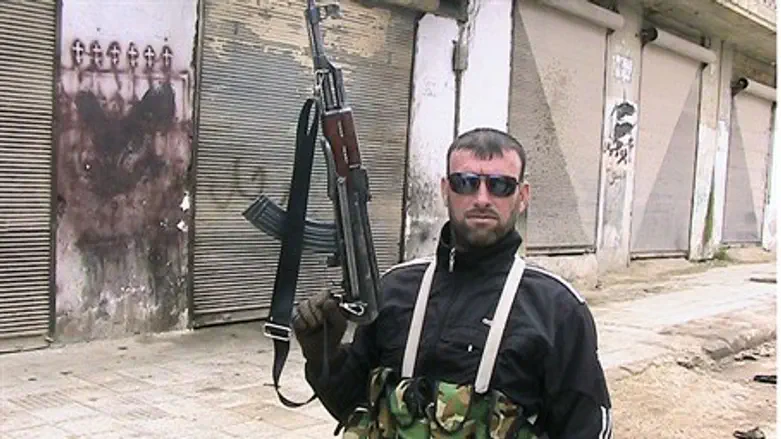 SFA Fighter Near Idlib
Reuters
The Free Syrian Army on Thursday formed a military council to coordinate operations around Damascus as it brings the year-old conflict to the capital.
"I, Colonel Khaled Mohammed al-Hammud, announce the creation of the Military Council for Damascus and the region that will be in charge of FSA operations in this region," an army deserter said in a video posted to the Internet.
He invited other "noble officers still in the ranks of Bashar's army" to join the rebel force, referring to President Bashar al-Assad.
Ahmad al-Khatib – calling himself a rebel spokesman for the Damascus area – told AFP the council "represents a unified leadership for deserters from the army to reassure those supporting the FSA."
Over 20,000 army defectors armed as light infantry have been put on the defensive and forced out of the cities since March due to the superior firepower of Assad's forces.
Rebels have turned to swift hit-and-run raids, with Damascus, which has seen little bloodshed to date, becoming a key target in the past week.
Their ability to strike not only across the country – but in the capital as well – has raised questions about the solvency of Assad's government despite its recent victories.
Fighting Rages On
Also Thursday, a 17-year-old boy was killed and dozens wounded in an army assault on the town of Sermin in the northwestern province of Idlib on the border with Turkey.
In the south, rebel fighters killed a soldier and wounded four others near the village of Saida in Dera'a province, where Syria's year-old revolt against the regime erupted.
The London-based Observatory for Human Rights reported several people wounded as regime forces opened fire with heavy machine guns in the Arbaeen district of Hama city in central Syria.
In Deir Ezzor province, Assad's troops searched the town of Quriyeh for rebels, making 10 arrests, including four members of the same family.
Last week, a series of massacres were reported as the death toll from Assad's brutal crackdown reached at least 8,000, according to United Nations Human Rights officials.
For over a month reports of mop up operations in fallen rebel strongholds by Assad's forces – including the rape, torture, and mass execution of civilians – have become increasingly common.
UN Chief Implores Assad
Meanwhile, UN chief Ban Ki-moon said Thursday he hoped a new statement approved by the Security Council on the Syria crisis would provide a "turning point" in efforts to bring fighting in Syria to an end.
Ban was referring to a presidential statement from the world body's 15-member Security Council demanding Syria "immediately" implement a peace plan proposed by his predecessor, U.N. and Arab League envoy Kofi Annan.
"As the situation on the ground continues to deteriorate, it is more urgent than ever to find a solution," Ban said during a speech in Kuala Lumpur.
"I hope that this strong and united action by the Council will mark a turning point in the international community's response to the crisis," he said.
"In clear and unmistakable terms, the Security Council called for an immediate end to all violence and human rights violations," he said. "It demanded secure humanitarian access and a comprehensive political dialogue between the government and the whole spectrum of the Syrian opposition."
Presidential statements from the U.N. Security Council are considered significant, but are nevertheless non-binding. Wednesday's statement alluded to potential international action if Assad does not comply, but observers say action remains highly unlikely.
Russia, a veto-wielding permanent member of the Security Council, has billions in oil and weapons contracts tied to Assad's regime. It has consistently shielded Syria from universal condemnation, sanctions, and suggestions of military intervention.