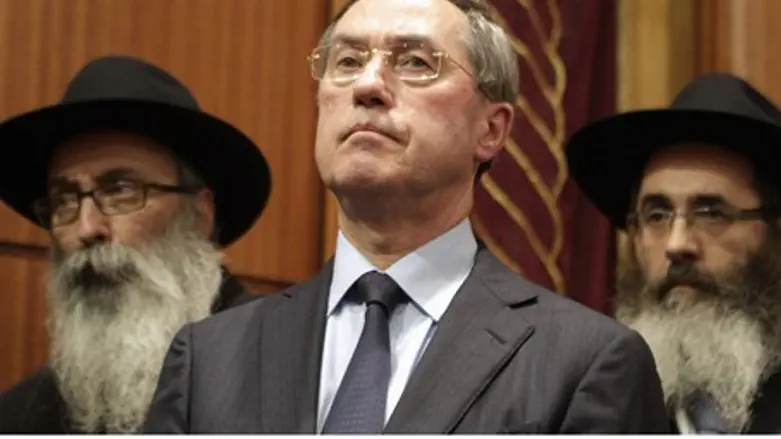 Claude Gueant
Reuters
French Interior Minister Claude Gueant on Monday revealed the gunman behind Monday's Otzar HaTorah murders was already on a watch list of Islamic extremists.
Gueant said 24-year old Mohammad Merah was a member of an ideological Islamic group in France, but stressed the organization was "not involved in plotting any violence."
He reportedly received a tip from a scooter repair shop in Toulouse, where the gunman asked to change the color of the Yamaha scooter used to flee the shootings and to remove a GPS tracker device.
The minister said Merah had contacted the first soldier he attacked on the pretext of wanting to buy his motorcycle, and admitted the shooter was on a watchlist.
Investigators identified the IP address he used – that of his mother – because he was already under surveillance for radical Islamist beliefs.
"We knew, and that is why he was under surveillance, that he had travelled to Afghanistan and Pakistan," the minister said.
He added that while Merah had a criminal record, nothing suggested he was planning violence.
Merah's telephone was tapped from Monday, which led police to hastily mount a pre-dawn raid on his house Wednesday when they realized more attacks were imminent.
Two police officers were injured in a firefight that erupted during the raid, which took place just before 3 a.m. local time, and led to a now 15-hour standoff.  It was originally reported three police officers had been wounded.
Police also conducted a controlled explosion of the suspect's car at around 9:00 a.m. after discovering it was loaded with weapons.
Monday's Otzar Hatorah shooting – the third deadly shooting carried out by Merah since March 11 – resulted in the deaths of Rabbi Jonathan Sandler, 30, his sons Arieh, 5, and Gabriel, 3, and 8-year-old Myriam Monsenego, daughter of the school's principal.
All four were laid to rest in Jerusalem on Wednesday.
The two previous shootings resulted in the deaths of three French paratroopers. French press reported the slain paratroopers were all – like Merah – of Arab extraction.
The suspect "wants to take revenge for Palestinian children" killed in the Middle East and "has various grievances with the French military," Gueant said earlier.
PA prime minister Salam Fayyad lambasted Merah, saying "It is time for these criminals to stop marketing their terrorist acts in the name of Palestine."
French officials say police had also arrested Merah's girlfriend and his brother, who is also known to authorities as a radical Islamist.