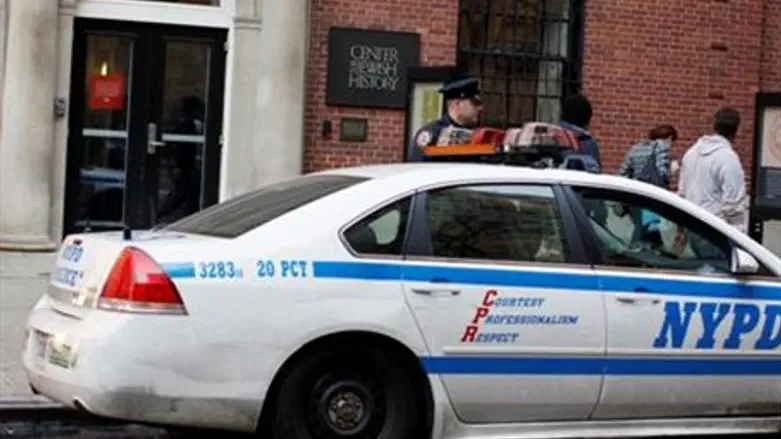 NY police car outside Center for Jewish Histo
Reuters
Jews and government agencies in the United States and elsewhere are beefing up security in the wake of Monday morning's murders of Jews at a French school.
There are no direct warnings of plots to attack Jews, but the gangland-style killing of three children and a rabbi in cold blood sent shivers through the bones of Jews in the Diaspora.
"We take everything seriously" even though there are no specific threats, said New York City Mike Bloomberg.
The New York Police Department deployed extra patrols in approximately 50 locations in the city. "We know that we're at the top of the terrorist target list, so we're concerned about the so-called copycat syndrome, where someone might see the events unfolding in Toulouse and take it upon themselves to act out," said Police Commissioner Raymond Kelly.
He added, "We have to be concerned about what happens overseas. We have a significant Jewish population in this city, and we have to take that into account."
Yeshiva University also increased security, and at least one Jewish day school warned parents and children not to loiter outside of their synagogue. The murderer in Toulouse gunned down his victims outside the entrance to their Jewish day school as he sped by on a motor bike.
From Washington to San Francisco, police said "additional attention" is being given to schools and Jewish institutions.
The murders revived awareness of worldwide anti-Semitism. "In light of the incessant anti-Israel and anti-Semitic rhetoric worldwide, we urge that all Jewish institutions review their security procedures in conjunction with local law enforcement," said Simon Wiesenthal Center official, Dr. Shimon Samuels.
Anti-Defamation League director Abraham Foxman reminded Americans that a poll indicated that approximately 15 percent of the respondents have "deeply anti-Semitic views."
Arutz Sheva reported Monday that Missouri has fired a National Guardsman from his duties as guard for military funerals and ceremonies after it was revealed was an avowed member of a neo-Nazi party.