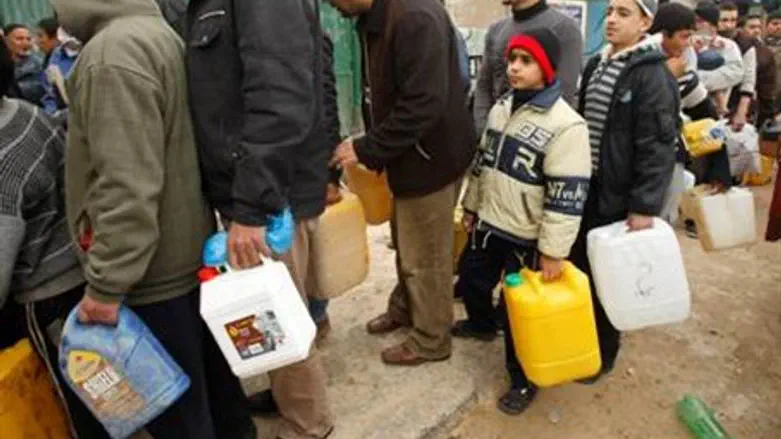 Gaza Arabs wait to fill containers with fuel
Reuters
Egypt will provide fuel to Gaza within a few days, the Egyptian ambassador to the Palestinian Authority said on Sunday.
Yasser Othman told the Bethlehem-based Ma'an news agency that Egypt will provide the fuel despite an energy crisis of its own.
Othman said Egypt is currently importing diesel from abroad to fill a deficit in local consumption, and will provide the Gaza energy authority with fuel from the imported supplies.
"The Gaza Strip needs 40 to 45 million liters of fuel a month, 15 million liters of that is specially for the electricity company," Othman told Ma'an. "It's very difficult because Gaza's fuel needs are more than four Egyptian governorates."
Last week, a Hamas legislator said Egypt had offered fuel to Hamas in exchange for a ceasefire of missile attacks on southern Israel.
The shortage of fuel in Gaza caused a power crisis that triggered lengthy blackouts in Hamas-run Gaza last month.
The outages started in mid-February, leaving households with just six hours of electricity a day, and provoking widespread criticism of Hamas in the coastal enclave.
Egypt and Hamas had reached an agreement on fuel transfer, but the agreement was delayed because of a disagreement over the route the promised fuel would make into Gaza.
Egypt reportedly wanted to stop the passage of fuel through tunnels under the border between Gaza and Egypt, but the official Rafah terminal is not equipped for goods transfers.
The only alternative route for the fuel was through Israel and then back into Gaza through the Israeli-controlled Kerem Shalom terminal, but Gaza's Hamas rulers were reluctant to transfer the fuel through Israel, claiming Israel "severely restricts" the movement of people and goods from Gaza.