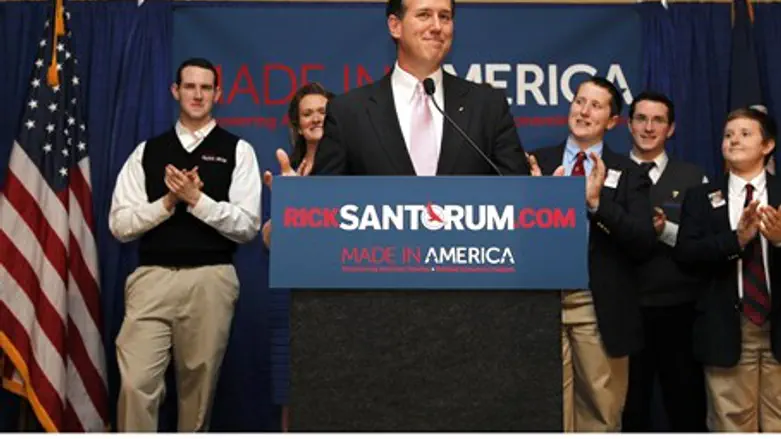 Rick Santorum campaigns in Alabama and Missis
Reuters
The Republican presidential primaries continue, with a surprise in Tuesday's crucial vote.
CNN is projecting that Rick Santorum will win the Alabama GOP presidential primary. According to the network, the former senator from Pennsylvania was also leading in Tuesday's Mississippi primary.
In Alabama, according to CNN, with 47 percent of the vote counted, Santorum led with 35 percent, followed by Gingrich at 30 percent, Romney at 28 percent and Ron Paul at five percent.
Santorum's wins will be somewhat of a surprise, because polls released Monday showed him running 8 to 10 points behind Romney and Gingrich in Alabama and Mississippi.
Gingrich, the former House speaker, was under the most pressure to take both states, after winning contests in South Carolina and Georgia.
47 delegates are up for grabs in Alabama, with 37 at stake in Mississippi, all being divided proportionally. Both states hold open primaries, which mean Republicans, independent voters and Democrats can cast ballots in the GOP contests. As well, 17 delegates are to be allocated in Hawaii and nine in American Samoa.
After polls closed Tuesday evening, Gingrich's chief of staff, Patrick Millsaps, told CNN Gingrich was in it for the long haul even if he didn't win both Southern states.
"We're not even at the halfway mark of this campaign season. Louisiana will be the halfway point. ... I think we will do well in the South (and) pick up delegates no matter where we are," Millsaps told the news network.
"Mitt Romney has spent 10-to-1 money against Rick Santorum and Gingrich, and can't close the deal. He's not at the halfway mark for delegates. So there's going to be a long path to (the GOP convention in) Tampa, and I think you're going to see us there," he added.
On Saturday, Santorum won the Kansas caucuses, receiving 51 percent of the votes. Romney came in second with 21 percent, Gingrich followed at 14 percent and Paul received 13 percent.
In last week's Super Tuesday primaries, Romney won Ohio, his home state of Massachusetts, Idaho, Vermont, Virginia and Alaska.
Santorum won North Dakota, Oklahoma and Tennessee, while Gingrich won his home state of Georgia. Paul has yet to win a state.