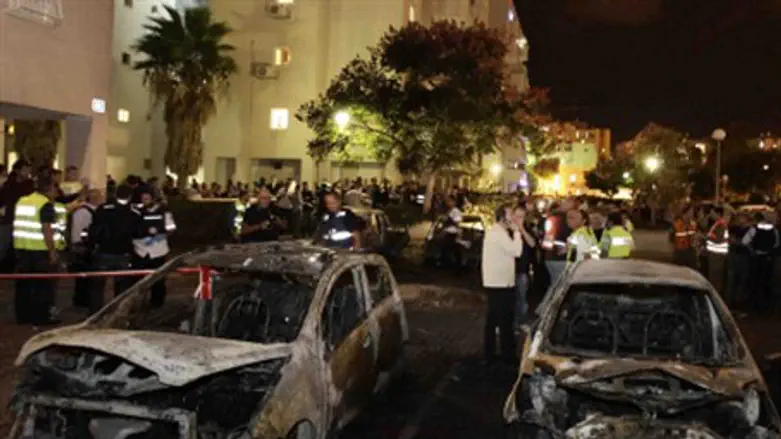 Grad Attack Scene in Ashdodo
Flash 90
Over the past three days, Gaza terrorists have launched over 150 attacks on southern Israel. The city of Ashdod has been targeted more often than it was even at the height of the Cast Lead campaign, residents say.
As the situation in southern Israel escalated and dozens of rockets were fired from Gaza, Arutz Sheva visited the city of Ashdod, one of many cities in the area hit by a barrage of rockets.
The citizens expressed their frustration at the ongoing situation and called on the government to do more for them.
"It's been a very difficult week," said Ronen Fahima, the of a sushi bar in Ashdod. The bar, which is usually busy, has been nearly empty during the escalation.
"It's been a week in which people are suffering from anxiety in Ashdod and barely leave their homes," said Fahima. "Our business has been hurt pretty badly. I hope that the government will compensate us for all the aggravation and what has been caused to our business."
He added, "On a regular day the place is lovely. It's right across from the beach. On a nice day like today, people usually sit in the coffeehouses, they go out of their homes, they have fun. Our Purim holiday was cut short... I call on the prime minister to turn to the government to compensate all the businesses that are being hurt because of this security issue. They're not taking care of us properly."
Ephraim Weber, a member of the Ashdod City Council, said that the rocket attacks caught him in the middle of his family's Shabbat dinner on Friday night.
"We were surprised this past Shabbat by this entire incident," Weber said. "It happened in the middle of Shabbat dinner and nobody was updated. It's an entire city, with lots of people, and we should at least be warned in advance that there could be a period of uncertainty. It was a real surprise that fell upon us on Shabbat. I don't remember such a Shabbat."
He added, "The public requests that this end as soon as possible, that the IDF enter Gaza. You cannot paralyze people like this. Children have no school and everything is shut down. People aren't even being updated about what's going to happen. The uncertainty is the worst part."
Aryeh Itach, head of the Emergency and Security Division in Ashdod, said that Ashdod's citizens are strong and are, unfortunately, well-prepared and trained to deal with rocket attacks.
"The community strength in Ashdod is expressed in the fact that the citizens are able to maintain an emergency routine and do not panic and for that, well done," said Itach, adding, "I take this opportunity to ask the residents of Ashdod not to go outside to watch Iron Dome intercepting the rockets and to stay in protected spaces for ten minutes, as the Home Front Command instructed. In addition, don't go outside after the explosion. There could be an additional explosion."
Ashdod resident Raz Shmueli told Arutz Sheva that this round of attacks is different from what came before for two reasons. "On the one hand, the frequency of attacks has tripled. On the other hand, the Iron Dome system response has been perfect. As of now, there have been no casualties in Ashdod, not even property damage," she said.
"What remains is the hysteria. The so very familiar hysteria of running like crazy to bomb shelters, of terrified children… But nature is doing its work; the protection provided by the Iron Dome alongside the frequency of the siren has provided a slight dose of apathy," Shmueli added. Some neighbors have stopped running to their reinforced rooms altogether, she noted, and instead stand at the window watching the Iron Dome shoot missiles down.
Shmueli expressed concern that residents could become too complacent. "That must not happen, it would even be dangerous… Binyamin Netanyahu, be aware," she said.