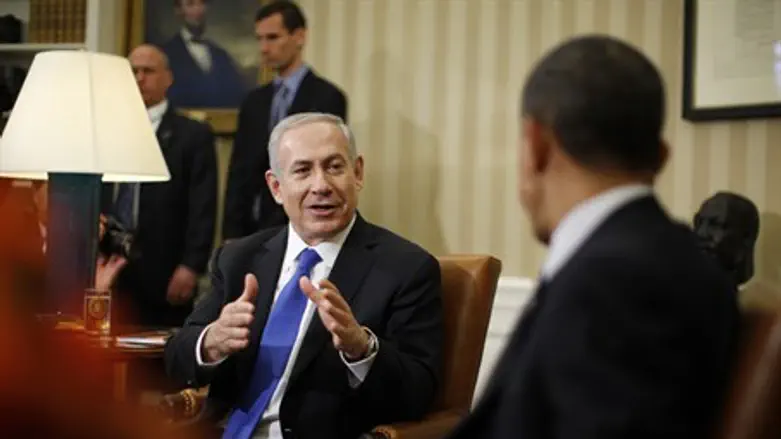 Netanyahu and Obama
Reuters
US President Barack Obama reportedly on Monday gave Prime Minister Binyamin Netanyahu a copy of the Book of Esther in honor of the Jewish holiday of Purim, which is celebrated on Thursday and Friday this week.
Netanyahu took the opportunity to draw a parallel between the narrative in the Book of Esther – wherein the wicked Haman seeks to destroy the Jewish people throughout the Persian Empire – with Israel's modern day conflict with Iran..
Iranian leaders – including President Mahmoud Ahmadinejad – have repeatedly called for the destruction of the Jewish state, referring to Israel as a "one bomb state."
Iran is geographically Persia and the Iranians are descendants of the ancient Persians.
The exchange took place at the end of the meeting between the two leaders, which lasted approximately 3 hours.
After the meeting, Netanyahu told reporters that Obama understood that Israel has the right to defend it against its enemies, and has the full right to take its future and security into its own hands.
A deep and high-profile schism between Jerusalem and Washington on how to confront Iran's nuclear ambitions has resulted in a nadir in relations between the two allies.
Netanyahu also hinted that he raised the issue of Jonathan Pollard's release from US prison. Pollard has served 27 years of a life sentence for passing classified data to Israel.
"I have worked for his release in the past, and always will work for his release," Netanyahu said.
Meanwhile, Channel 2 reported that senior Obama administration officials are convinced an Israeli strike on Iran's nuclear program would "cause a conflagration" in the Middle East.
It was also reported US intelligence officials believe Israeli leaders have already decided to attack Iran, barring significant change in Iran's nuclear posture in the coming weeks or months.
Analysts say it is unlikely Jerusalem will warn Washington ahead of a strike on Iran due to numerous leaks in Washington, compromising Israel's plans and stature in its face-off with Tehran.