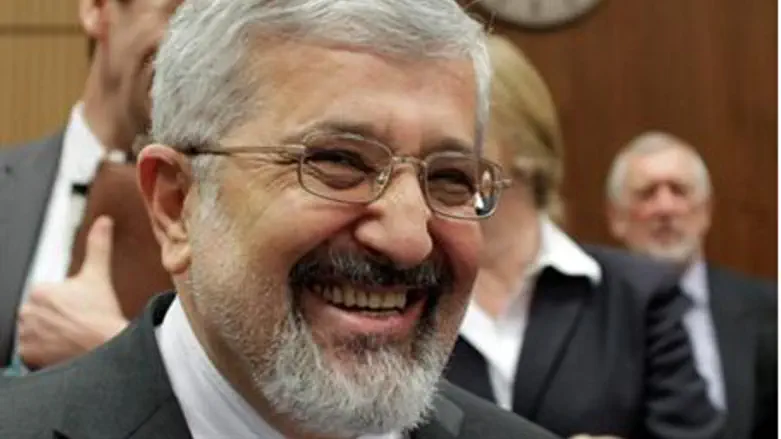 Iran's IAEA envoy Ali Asghar Soltanieh smiles
Reuters
The United Nations IAEA nuclear agency, years after Israel warned not to trust Iran's "peaceful ambitions," now is "concerned" at a sharp increase in uranium enrichment and the possibility its scientists are hiding work for an atom bomb.
International Atomic Energy Agency chief Yukiya Amano, speaking to the IAEA board, said that a tripling on the enrichment of uranium at Iran's underground Fordo nuclear site, along with Iran's rejection of IAEA attempts to inspect nuclear facilities, point to concern that the Islamic Republic might be developing nuclear capability for other than peaceful purposes.
The timing of his remarks could not be more appropriate for Israel, with President Shimon Peres and Prime Minister Binyamin Netanyahu visiting President Barack Obama.
The uranium is 20 percent enriched, far below the 90 percent needed for a nuclear weapon, but the amount of low-grade uranium being produced can be processed further for upgrading.
"The agency continues to have serious concerns regarding possible military dimensions to Iran's nuclear program," he told the meeting. "As Iran is not providing the necessary cooperation ... the agency is unable to provide credible assurance about the absence of undeclared nuclear material and activities in Iran, and therefore to concluded that all nuclear material in Iran is in peaceful activities."
China and Russia have been stumbling blocks to Western efforts to pass a resolution in the United Nations Security Council criticizing Iran and also have balked at placing sanctions meant to harm Iran, where both countries have invested heavily in building its nuclear facilities.
The higher production of uranium at the Fordo plant is of great concern because the plant is built underground and protected by mountains and concrete bunkers, making it difficult if not impossible for Israel to attack.
Iran last month welcomed IAEA visitors but refused to allow them to visit its facilities.
The Islamic Republic maintains its nuclear program is for peaceful ambitions, and assuming that a nuclear warhead is on its agenda, it is locked in a race against Israel and the United States of what will come first – a nuclear weapon or economic and/or military damage that can stop its development.