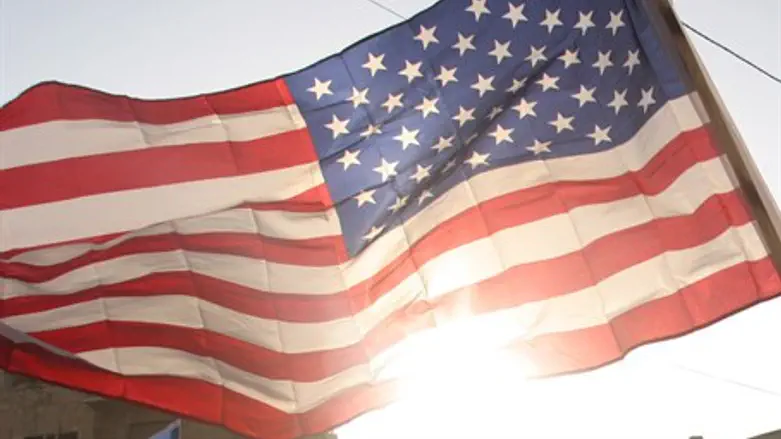 US, Israeli flags
Israel news photo: Flash 90
Pat Buchanan, an MSNBC conservative commentator who has been accused of anti-Semitic rhetoric, announced on Thursday that he will be departing from his position at the channel. He cites "an incessant clamor from the left" as the reason for his departure.
The release of his last book entitled, "Suicide of a Superpower: Will America Survive to 2025?" has provoked a great deal of debate due to its controversial nature.
While speculations that he was fired over the book have not been confirmed, he has not appeared on MSNBC since its release in October of 2011.
"Buchanan has shown himself, time and again, to be a racist and an anti-Semite," said Abraham H. Foxman, ADL National Director. "It is especially disturbing that he continues to be given a platform to espouse his views at a mainstream network like MSNBC, where he is presented as a knowledgeable and respected analyst. Buchanan continues to show his true colors by espousing hateful, bigoted statements in his new book."
In response to the accusations, Buchanan said, "Consider what it is these people are saying… They are saying that a respected publisher, St. Martin's, colluded with me to produce a racist, homophobic, anti-Semitic book, and CNN, Fox News, C-SPAN, Fox Business News, and the 150 radio shows on which I appeared failed to detect its evil and helped to promote a moral atrocity. 
Last week Buchanan gave an interview on Russia Today in which he discussed the issue of Israel and Iran. "There are people that want a war," he said. 
"I mean, do not think no one wants a war. You don't have wars unless someone wants it. And quite clearly the Israeli government would like to see the United States smash Iran's nuclear program, which they think is creating the additions where Iran could, with one leap forward, get a bomb. The Israeli lobby would like to see a war. They support the Israeli government. Neoconservatives do. Many Republicans do. There are many Americans who genuinely believe that if Iran — they believe Iran is moving toward a weapon; and if it is, they would favor military action to prevent it. There are a number of people who want a war," he continued.
In a 2009 report, "Patrick Buchanan: Unrepentant Bigot," the Anti-Defamation League (ADL) said that Buchanan's increasingly bigoted worldview is identical to those of self-declared "white nationalists." Buchanan has repeatedly demonized Jews and minorities and has openly affiliated with white supremacists, the report noted. He has also claimed that the sovereignty of the United States is being undermined by Israeli control and Mexican incursion. 
Buchanan wrote a statement on Thursday relaying, "In the 10 years I have been at MSNBC, the network has taken heat for what I have written, and faithfully honored our contract. Yet my four months' absence from MSNBC and now my departure represent an undeniable victory for the blacklisters."