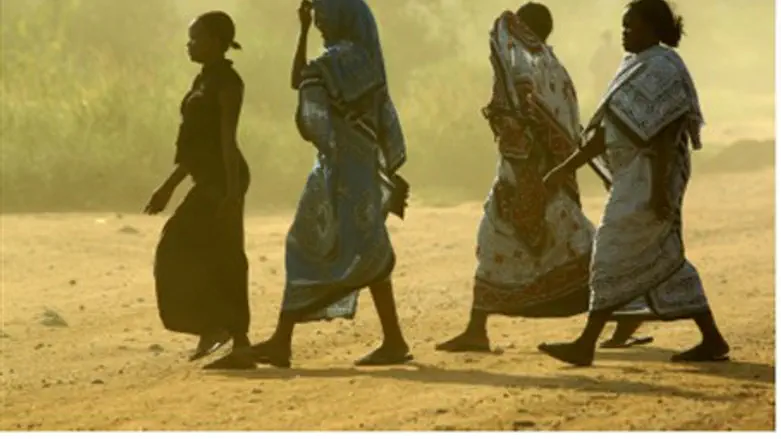 African women walking in Juba
Israel news photo: Flash 90
A delegation of Israeli experts from the IsraAID organization is set to fly to Juba, South Sudan this week to conduct the first-ever Gender Based Violence (GBV) training program for social workers in Africa's newest nation.
The trip is being subsidized by a private family foundation, the UJA Federation of Greater Toronto, FIRST and the Israel-based NGO, Operation Blessing Israel.
The 30 South Sudanese social workers who are to participate in the workshop, set for March 2, work with the most vulnerable communities in the Juba region, particularly women and girls who are victims, or at risk of becoming victims of sexual abuse and other forms of gender-based violence.
Three highly skilled and experienced Israeli therapists will carry out the training on the delivery of social work, post-trauma assistance and in-situ treatment of gender-based violence.
IsraAID's team will train the entire staff of the leading local NGO, Confident Children out of Conflict (CCC), as well as the newly-hired social workers of the Ministry of Social Development of Central Equatorial State.
CCC provides a safe house for abused or at-risk girls who come from the slums of Juba. The program enables the girls to receive three meals a day and provides access to counseling. At the center the girls are protected from sexual predators, and are also allowed to attend school.
Violence against girls and women in Southern Sudan takes the form of wife beating, forced and early marriages, abduction of girls and the culture of silence and stigma that masks and reinforces sexual violence.