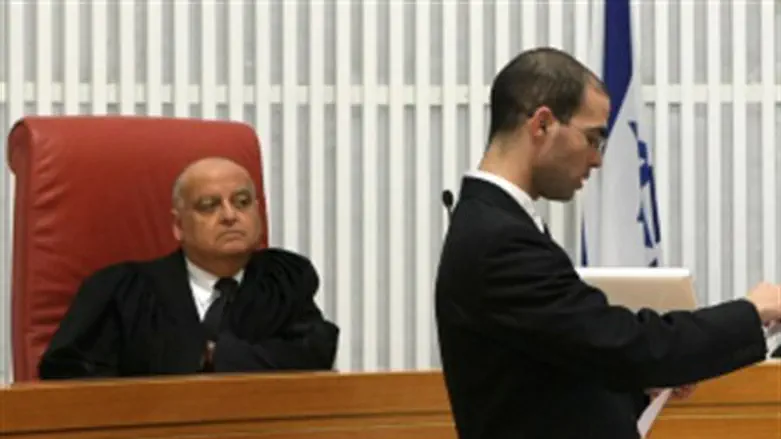 Judge Salim Jubran
Israel news photo: Flash 90
An Israeli Arab Supreme Court Judge caused an outrage on Tuesday, when he refused to sing Israel's national anthem.
The incident occurred during the swearing in ceremony of the Israeli Supreme Court's new president, Judge Asher Grunis. Grunis was sworn in Tuesday afternoon, several hours after outgoing president Judge Dorit Beinisch formally ended her term in office.
At the end of Grunis' swearing in ceremony, everyone stood up and sang Hatikvah, the Israeli national anthem, together. Arab judge Salim Jubran, however, chose not to participate in the singing, according to a report on Channel 2 News.
The report cited the judge's associates as having said that the issue of singing the anthem is a "very sensitive" matter for judge Jubran, but did not provide details on what exactly that meant. The Israeli anthem expresses the Jewish longing to return and be a free people in their homeland, Zion and Jerusalem, but does not in any way negate the presence of non-Jews in the country.
Jubran's refusal to sing the Israeli national anthem was met with outrage, particularly among nationalist politicians, who told Channel 2 that it is unacceptable that a Supreme Court judge refuses to sing Hatikvah.
MK David Rotem (Yisrael Beiteinu), who chairs the Knesset's Constitution, Law and Justice Committee and is also a member of the Judge Selection Committee, announced that he plans to approach Justice Minister Ya'akov Ne'eman on Wednesday and demand that he fire judge Jubran.
MK Michael Ben-Ari (National Union) also condemned Jubran's action and announced that he will submit on Wednesday a bill known as the Jubran Bill, which will stipulate that a person who did not serve his country, be it in the IDF or through national or civil service, will not be permitted to serve as a judge in the Supreme Court and, if already appointed, will not be allowed to serve as its president or vice president.
"Every Israeli citizen is committed to the anthem, and certainly those who hold senior state positions," said Ben-Ari. "The fact that Jubran did not hesitate to degrade the state ceremony of the changing of the presidents is like spitting in the face of Israel. There are citizens who demand rights and government positions, but who scorn their national obligations with insolence and arrogance. This situation endangers the existence of the state and must be eradicated."
Ben-Ari added, "Whoever does not like the national anthem should find a country with a suitable anthem and go there. I, for one, promise not to beg that person to remain here."