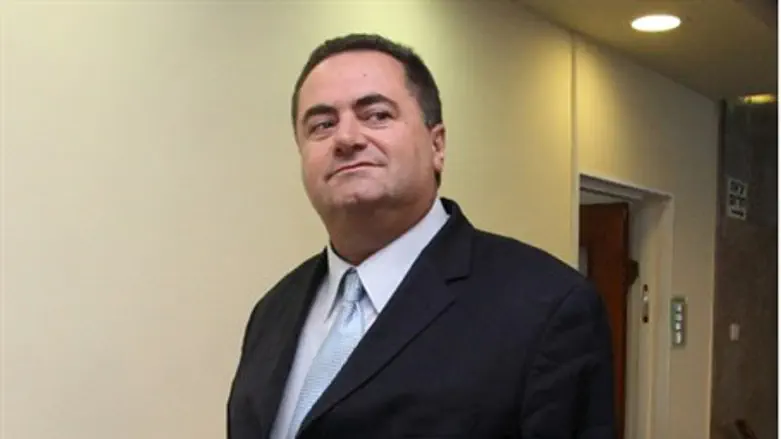 Minister Yisrael Katz
Israel news photo: Flash 90
Just hours after the Histadrut threatened labor disruptions and downtime for Israel's civil air carriers, Transportation Minister Israel Katz announced he has yet to sign the controversial "open skies" agreement with European countries that provoked the threat.
Instead, Katz said the "soundness of the companies" would be evaluated before a decision was taken over whether to sign the agreement.
At a meeting with Israeli airline managers, Katz said that he wants the companies' financials and economic projections so he can examine the feasibility of signing an open skies agreement without affecting the fiscal soundness of the Israeli companies.
"As Minister of Transportation, I have a responsibility to ensure the soundness of Israel's airlines," Katz said. "I made a decision to approve regular flights to Eilat for the Arkia and Israir companies, and I intend to drive the issue of open skies."
Civil Aviation Authority director Giora Rom also attended the meeting, reporting on the progress of negotiations with the EU and joining Katz in listening to the concerns of Israel's airlines.
Katz said that before he would agree to sign the "open skies" he would insist it include internal mechanisms to ensure Israeli airlines were able to compete on equal terms with European companies.
Chairman of the Histadrut Ofer Eini told Israel's Hebrew-language Ma'ariv newspaper, "the Transportation Minister's statement encourages us, but we expect guarantees that he will not sign the 'open skies' agreement without ensuring the employees of Israel's airlines will not be harmed."
Eini added, "We take the Minister seriously and will hold him to his promise. He must do everything possible to ensure the livelihood of our workers. To date, no one discussed the agreement with us."
"In its present form it will allow any European airline to fly to Israel without restriction, leading to an immediate reduction in our operations and the market share of Israeli companies," Eini explained. "The inevitable result is clear - the dismissal of thousands of Israeli workers."
The Histadrut and Israel's airline executives say the "open skies" agreement in its current form would put Israeli companies at a distinct disadvantage compared to European carriers due to the higher security costs Israeli companies operate under.
"I am not talking as CEO of El Al, but as an Israeli for whom Israeli aviation is critical. The open skies agreement must be based on clear definitions before the new policy is implemented," El Al Israel Airlines Ltd. CEO Eliezer Shkedi said several weeks ago.
He added, "Open skies should be a careful, cautious, sagacious, and proportionate move, but what is being presented now is liable to cause Israeli aviation to crash."