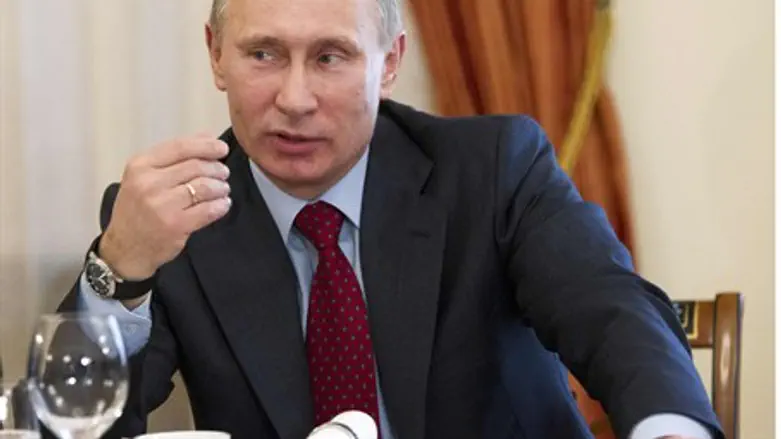 Russian Prime Minister Vladimir Putin
Reuters
As speculation continues that Israel will launch a pre-emptive strike on Iran's nuclear facilities, Russian Prime Minister Vladimir Putin is warning against such a strike, Channel 2 News reported.
In an article to be published Monday as part of Russia's foreign policy and of which portions were released on Sunday, Putin says Russia is concerned "from the growing threat" of an attack the Islamic republic's nuclear program in the country.
Putin reportedly warns that such a move would be result in a "real catastrophe."
"The growing threat of a military attack in Iran makes Russia worried, no doubt," Putin was quoted as having written. "If this happens, the results could be truly catastrophic. It is impossible to imagine their true scale."
In the article, Putin also discusses the possibility of military action by the West or Arab countries in Syria, and warns against such a move as well.
"I very much hope that the U.S. and other countries will not try to go for military action in Syria, without sanctions from the UN Security Council," Putin was quoted as having written.
On Friday, the United Nation's nuclear watchdog agency released a new report which reveals that Iran has significantly increased its uranium enrichment.
The International Atomic Energy Agency (IAEA) expressed concerns in its latest report over Iran's nuclear intentions saying Iran's nuclear program has "a dimension directed toward developing nuclear weapons."
A visit last week by an IAEA team to Tehran failed, after the team members were denied access to a key military site, and the IAEA later said they were unable "to reach an agreement on a document facilitating the clarification of unresolved issues in connection with Iran's nuclear program."