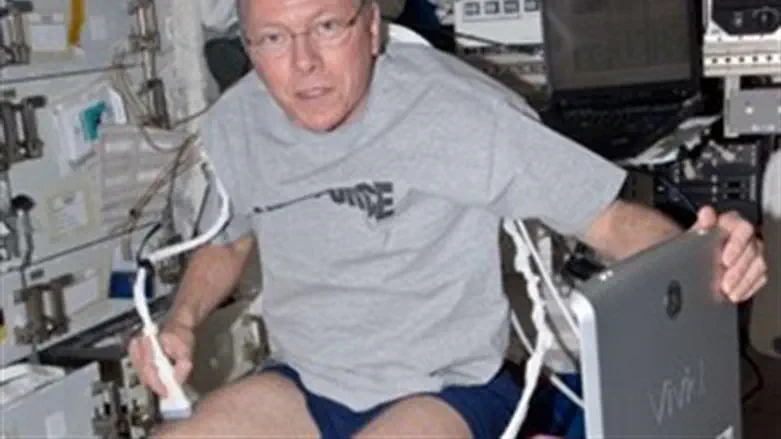 Astronaut tries out Israel-designed system
Israel news photo: NASA
NASA astronauts are using a General Electric Healthcare device designed in Israel for monitoring the impact of space travel on the human body.
The astronauts blasted off with the "Vivid q" Cardiovascular Ultrasound last July on the final space shuttle flight of the International Space Station (ISS) but it was not put into action until recently, GE Healthcare spokespersons told Arutz Sheva. The space station is planned to operate through 2020.
Israel's part in the device on the space shuttle had not previously been revealed.
The Vivid q was developed and manufactured in Israel by GE Healthcare's Ultrasound team and is in use on the International Space Station as part of NASA's human research program to study the impact of long duration microgravity space flight on astronauts.
The system is about the size of a laptop, offering compact, lightweight diagnostic capabilities with portability and ease of use. It provides cardiovascular imaging and features self-monitoring and troubleshooting functions.
Extended space travel often causes a drop in blood pressure and lightheadedness, effects that the Vivid q will try to monitor by checking the heart, muscles and bones, which can shrink by up to 2 percent a month.
The studies "will also help us determine if there is a risk of abnormal heart rhythms and how significant the risk is in order to develop appropriate countermeasures," said Dr. Deborah Harm, a top NASA scientist. "At this time it is unknown if heart muscle weakening continues throughout a mission or if it levels off at some point. That's what we want to find out."
The data obtained by the device is intended to help NASA quantify the extent and time line of decrease in the heart muscle and will help researchers evaluate  the use of high intensity, low volume exercise training to minimize loss of muscle, bone, and cardiovascular function in crewmembers during long-duration missions.
A third objective is to evaluate peripheral blood vessel wall properties of long-duration ISS crewmembers during and after long-term exposure to microgravity.
"It is an honor for GE to have our technology recognized and to be involved with this cutting-edge research being conducted by NASA's human research program," said Ilan Lifshitz General Manager of Ultrasound for GE Healthcare in Israel.