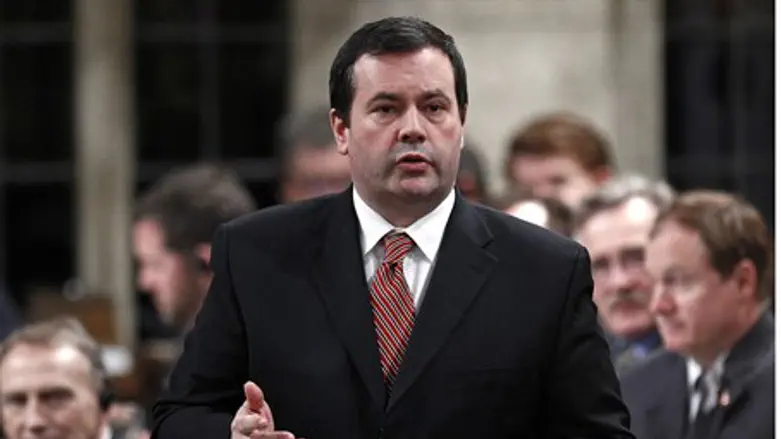 Canada's Immigration Minister Jason Kenney
Reuters
A store in Vancouver, Canada which has been the target of anti-Israel demonstrators received support from a government minister this week.
Shalom Toronto reported that Jason Kenney, Canada's Minister of Citizenship, Immigration and Multiculturalism, visited on Wednesday Lavan, a Vancouver store owned by an Israeli and which sells cosmetics and beauty products made in the Dead Sea, to express his support.
The store has been targeted by local pro-Arab groups who last Sunday held a protest rally against it for selling Israeli products. This was the second demonstration within the last three months against this specific store, and the same groups have held similar protests in the past, including one against a ship belonging to the Israeli company Zim which had moored in Vancouver, a protest against local wine stores that sell Israeli wines, and more.
Minister Kenney is known for his staunch support for Israel, Shalom Toronto noted, similar to Prime Minister Stephen Harper's support for the Jewish State. In his capacity as minister, Kenney has substantially cut in recent years the budgets of pro-Arab organizations working in Canada, claiming they are acting against Israel and incite against it.
During his stop at Lavan, Kenney expressed the support of the Canadian government in the store's fight against pro-Arab supporters, and even purchased a few products.
Earlier this week, Shalom Toronto reported that Mark Gurvis, Executive Director of the Jewish Federation of Greater Vancouver, is encouraging local Jewish residents to protest the calls for boycott on Israel and Israeli products.
Gurvis was quoted as having said that the campaign to boycott Israeli products due to Israel's so-called 'apartheid policy' is based on a comparison of Israel with the apartheid policy that was used in South Africa. He said making such a comparison obscures the complex reality of the Israeli-Arab conflict.
"Do the real problems have a solution? Of course. Is Israel is an apartheid state? No," Gurvis was quoted as having said.
Gurvis called on members of Vancouver's Jewish community to counter-protest these groups by joining the BUYcott Israel group, which aims to support Israel by encouraging the purchase of products and services from Israel.
(Arutz Sheva's North American Desk is keeping you updated until the start of Shabbat in New York. The time posted automatically on all Arutz Sheva articles, however, is Israeli time.)