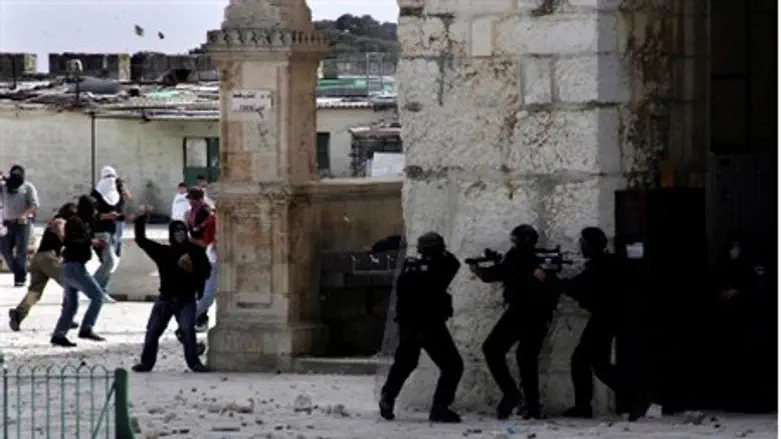 Arabs stone police, tourists on Temple Mount
Israel news photo: Flash 9 0 (archive)
Israeli police on Thursday arrested seven Arabs who instigated a series of confrontations with Jewish visitors on the Temple Mount in Jerusalem's Old City.
"A group of Jewish visitors were at the Temple Mount and were targeted by shouts and insults by Palestinians," spokeswoman Luba Samri said.
"The police arrested four of them to prevent the type of confrontations we have seen this week," she said, adding that three other Arabs were also detained.
"Two of them (were arrested) because they were involved in causing trouble earlier this week, and the third because we had information suggesting he was intending to cause trouble," Samri said.
On Tuesday, Muslims on the Temple Mount hurled stones and shoes at police escorting Jewish and Christian visitors. One police officer sustained minor injuries.
Two Muslims were arrested in that incident, police said.
And on Sunday, police used tear gas to disperse Muslim rioters who were throwing stones inside the compound, arresting 18 people.
The Temple Mount is the site of the Al-Aqsa Mosque (705 CE) today. However, long before that, it was the site of the the First Holy Temple, built by King Solomon (stood from ~950 BCE to 587 BCE) and the Second Holy Temple (517 BCE to 70CE) and is indisputably Judaism's most sacred site.
The Western Wall, where Jews are allowed to pray, is merely a remnant of an outside compound wall of Herodian days and not part of the Temples.
The Muslim Waqf, the religious Muslim authority, has systematically attempted to destroy all archaeological evidence of earlier Jewish presence on the Mount, illegally excavating and destroying priceless and irreplaceable relics.
Israeli archaeologists and volunteers sift painstakingly through the debris of the excavations, finding artifacts that are then transferred to Israeli museums.
The Muslim Waqf was allowed to manage the site after Israel succeeded liberating the Temple Mount in 1967 at the suggestion of then Defense Minister Moshe Dayan. It maintains a discriminatory policy seeking to bar Jews entry to the site.
The Israeli police, afraid of riots, allow the Jewish worshippers to be discriminated against to the point of not being allowed to even whisper prayers on the Mount.