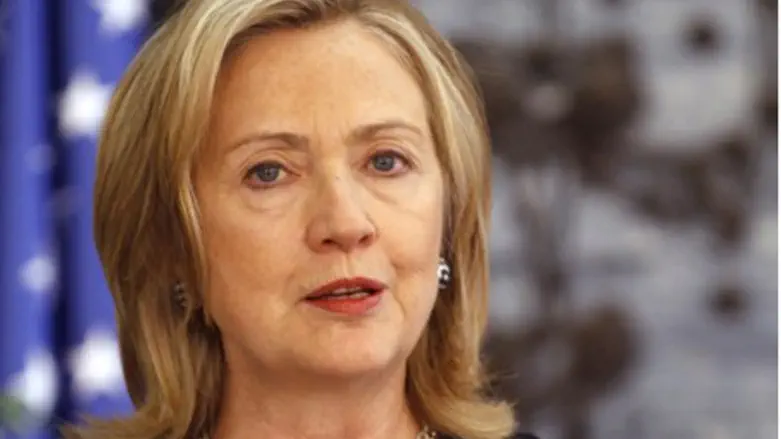 Hillary Clinton
Israel news photo: Flash 90
Yemeni electoral officials Wednesday were still counting votes after Tuesday's presidential poll in which the nation's interim leader was the only candidate.
Vice President Abd Rabbo Mansour Hadi is expected to be rubber stamped in an election that ends the 33-year reign of President Ali Abdullah Saleh.
Electoral officials in Yemen say that turnout in Tuesday's vote reached 60 per cent nationwide, but in the south, where ten people were killed in clashes between separatists and police, turnout was far lower.
"Average nationwide voter participation reached 60 per cent," an official, who spoke with Gulf News on condition of anonymity, said.
In the main southern city of Aden, 50 per cent of eligible voters cast their ballots, while in other southern provinces, turnout was less than 40 per cent.
Separatists in the south rejected a single candidate poll, but Hadi is widely seen as seen as an honest broker by opposition leaders, members of Saleh's old guard, and international actors in Yemen. 
Saleh's departure and Hadi's uncontested election were a part of a Washington-backed deal brokered by the Gulf Cooperation Council for a smooth transition of power in Yemen.
Under the deal Hadi, who has effectively run the country since an assassination attempt on Saleh in June 2011, will head unity government tasked with undertaking much needed political and financial reform.
US Secretary of State Hillary Clinton hailed the vote as "another important step forward in their [Yemen's] democratic transition process."
"The election sends a clear message that the people of Yemen are looking forward to a brighter democratic future," she said, pledging Washington would "continue to support Yemen" in its "urgent economic, social and humanitarian challenges."
Over the weekend, Hadi outlined his government's two-year plan, focusing on the need to reunify the army, destroy al-Qaeda, and carry-out "radical reforms."
Resolving the "economic problem is our top priority, but our current circumstances and the consequences of the recent (political) crisis has forced us to ask for help," Hadi said.
"This is why we are renewing our request for urgent aid and support from brotherly and friendly countries to allocate funds," pledged to Yemen by donors.
He further proposed the "establishment of an emergency fund to help the Yemeni government overcome the current economic crisis."
The International Monetary Fund says it is ready to discuss fresh aid when the situation in Yemen is calmer, but that it cannot adopt and implement economic reforms until there is a government in place.