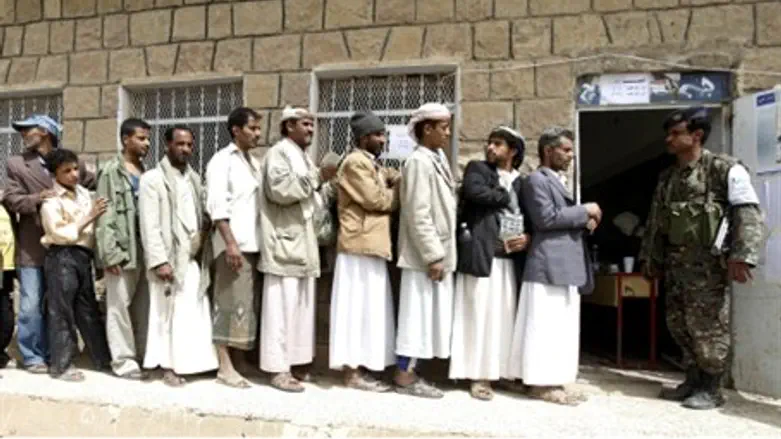 Saana Voting, 21.02.12
Reuters
Yemenis turned out en masse to vote for a new leader in most provinces on Tuesday despite violence in some southern cities.
Four people were killed and a dozen injured as government forces skirmished with secessionist gunmen as thousands of troops backed by tanks sought to ensure a smooth presidential poll.
In Taiz, Yemen's most populous city, the turnout was reportedly so huge and unexpectedly high that the polling stations ran out of ballot papers.
In the capital, Sanaa, thousands of people queued outside polling stations in the first where the outgoing president is not a contender.
The sole presidential candidate, Abd Rabbo Mansour Hadi, cast his vote in the capital, where voting is said to have gone smoothly.
Hadi is widely expected to replace Yemen's long-serving president Ali Abdullah Saleh, who is seen as an honest broker by both opposition leaders and members of the old guard.
Saleh – who is in the United States for medical treatment due to wounds he received in a June 2011 assassination attempt – called for Yemenis to head to the polls and confirm Hadi as his successor "to ensure a peaceful transition of power."
"I invite you to actively participate in this democratic event and to head to ballot boxes to vote for Abdr-Rabbo Mansur Hadi," Saleh said via the Saba news agency.
In a televised speech on Sunday, Hadi called for urgent foreign aid to help revive the country's shattered economy. He also pledged to address the concerns of southern separatists and northern rebels who want to break Yemen into pieces.
During the speech he outlined his government's two-year plan, focusing on the need to reunify the army, destroy al-Qaeda, and carry-out "radical reforms."
Resolving the "economic problem is our top priority, but our current circumstances and the consequences of the recent (political) crisis has forced us to ask for help," Hadi said.
"This is why we are renewing our request for urgent aid and support from brotherly and friendly countries to allocate funds," pledged to Yemen by donors.
He further proposed the "establishment of an emergency fund to help the Yemeni government overcome the current economic crisis."
The International Monetary Fund says it is ready to discuss fresh aid when the situation in Yemen is calmer, but that it cannot adopt and implement economic reforms until there is a government in place.
However, while voting in the north went peacefully, calls for boycott by the separatist Southern Movement turned into bloody confrontation between its gunmen and its security forces.
Clashes occurred in most of the southern cities, where heavy gunfire was reported.
In the vital port city of Aden, three people were killed and at least 10 injured when police fired live ammunition at crowds who tried to storm polling stations.
Some polling stations were looted by the movement's thugs and people were seen carrying ballot boxes out.
Turnout in the south, where people reported receiving threatening telephone calls telling them not to vote, was said to be much lower than in the north.