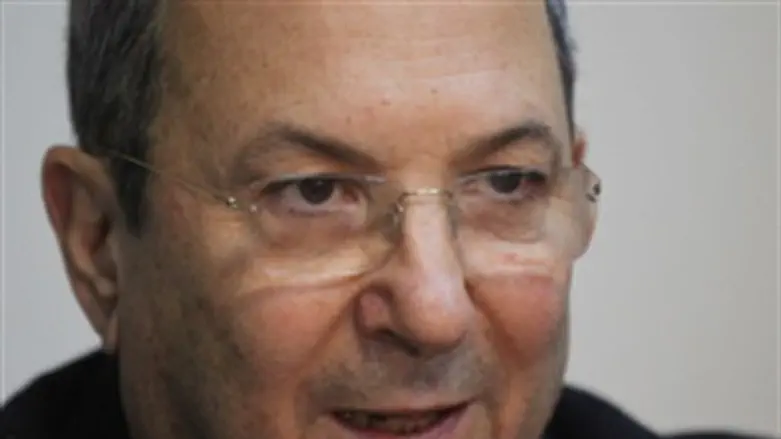 Ehud Barak
Israel news photo: Flash 90
Israel's Defense Minister Ehud Barak called on the international community Saturday to tighten sanctions even further on Iran, warning it is essential to halt the Islamic Republic's nuclear development activities.
Speaking to reporters in Tokyo following meetings with Prime Minister Yoshihiko Noda and other Japanese officials, Barak said, "I think there is consensus now in most of the world's capitals that Iran should not be allowed to become a military nuclear power."
He added that at least in the West, and in North American, "no option should be removed off the table in regard to dealing with the threat" of Iran as a nuclear power.
"We feel the same," Barak said. "We feel it is still a time for even more tight, ratcheted up sanctions against Iran, not only oil but sanctions against the central bank and removing its access to international clearing systems. This should be done definitively and without delay."
The defense minister noted that Saudi Arabia is ready to increase production, and that exports from Iraq are also on the rise. As a result, countries cannot hide behind the threat of losing oil from Iran in deciding whether to take action on imposing "crippling sanctions," Barak said. Iran had halted oil exports to France and the Netherlands and threatened to end shipments to four other European countries, the state-run Mehr news agency reported Feb. 15. 
Prime Minister Binyamin Netanyahu meanwhile commented last Thursday said sanctions imposed on Iran thus far by the international community "are not working. "Iran is the most irresponsible force in the world. I hope the sanctions will have an effect, but so far they have not," Netanyahu said during a state visit to Nicosia in Cyprus.
Israel believes that Iran was behind a terrorist attack that last week seriously wounded the wife of an Israeli diplomat in New Delhi. Tal Yehoshua-Koren returned to Israel aboard a special ambulance plane on Saturday after giving testimony to police on Friday afternoon in India. 
In Georgia, terrorists also attempted to attack an Israeli diplomat but failed when the alert chauffeur stopped the car when he heard an unfamiliar noise, and discovered the explosive. A botched bomb plot in Bangkok, Thailand last week also appeared to have been aimed at Israeli diplomats as well.
 Israel's Ambassador to the United Nations filed a formal complaint with U.N. Secretary-General Ban Ki-moon over Iran's role in all of the attacks.